Tweet
Share
Name: Saffron Taylor
Website: http://www.saffrontaylor.com

Height: 5'6"
Weight: 113lb
Measurements: 34DD-24-34
nationality: British
Languages Spoken: English and a bit of Italian
Occupation: Glamour Model

Turn On: Intelligence and muscular forearms
Turn Off: Bad manners and arrogance
Skills: Modeling of course;) but outside this I am quite an artist, painter and web designer!

Favorite Designer: Victorias Secret
Runway or Glamor? Glamor
Do you sleep naked? Yes
Thong, Panties, Commando? Thong
Favorite Digital Gadget? My Ipod
Favorite Magazine besides ModelVanity? Robert Kennedy's Oxygen
Favorite Possession? My House and car
Do it yourself type? (y/n) y
What 3 Items on a deserted Island? Water, food and lipstick, lol
Tropical or Cold climate? Tropical
Hyper or Chill? Hyper
Favorite Car: Aston Martin DB9
Favorite food? or Drink? I like ALL food, lol.
Favourite drink, well non alcoholic has to be orange juice. Alcoholic is Southern Comfort with Lemonade
Favorite Music: All types
Vegas, Miami, Hollywood, Ibiza, Paris, London? Hollywood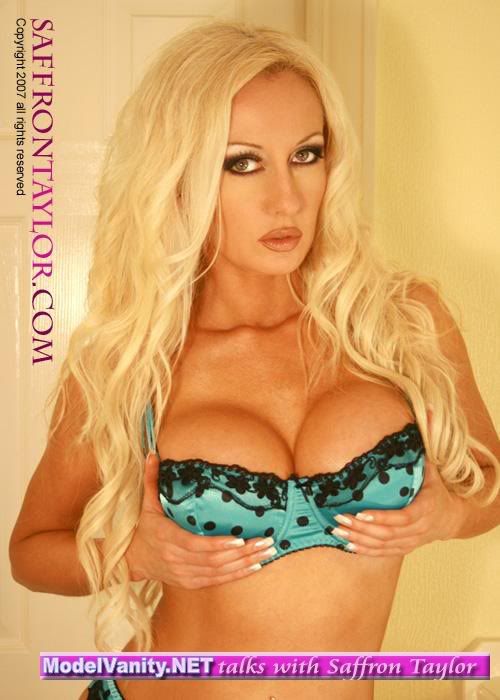 Saffron, What was life like growing up? My live growing up was pretty normal, I was painfully shy at school, nobody ever heard me speak lol. I am making up for it now though!

Where you popular in High School? erm refer to above, not really! lol

How did you start modeling? I started modeling after creating a myspace page and getting a few offers and opportunities to model.

What was it like to pose the first time? Nervous, and I didnt feel sexy at all!

Do you get nervous before your shoots? Not anymore, I did when I first started

How long have you been modeling? about 2 years now

What is your favorite type of pose? Anything that includes good lighting and a great theme
What sets you apart from other models? I am extremely creative, I built and maintain my own website, I run my own fan club,create all my own promotional graphics and do most of my PR. This way I feel I can keep better contact with my fans and friends.

Who is your favorite model? Too many to choose, so I am not going to say one over another

What makes a good photographer? Being creative, knowledge of good portrait lighting and not affraid to try new things. (MV - We agree)


What do you do to keep fit? I work out at the gym about 3 to 4 times per week, doing weight training and cardio on the cross trainer and running machine.

Any current exciting projects your working on? I am always working on new projects, including new and exciting photos and videos for the members of my website.

What has been your most significant accomplishment in the industry so far? Winning quite a few modelling competitions, unexpectedly too!

Ever thought about acting? Not up to now, but who knows what the future holds

What are you dreams/goals in life? To live a happy, successful life and to maintain good health

Where will you be in 5 years? World famous;) Well at least across the net!

Do you like to travel? I love to travel, I think we should all have the opportunity to visit most
cities and beautiful places in the world.

What is your favorite place to visit? Well the best place I ever visited was Egypt, I had never seen so many amazing sights before!

What Makes you feel sexy? Wearing beautiful sexy lingerie

Has anyone every tried to hold you back in life? Yes, I was once dating a guy who was very posessive, at the time I was not modelling but I know for sure he would have had a nervous breakdown at just the thought of me showing any flesh, lol

What can guys do to be more attractive to women? Listen to us, show respect and be attentive;) thats the key! (MV - oh so thats it!!!)

If you could meet anyone dead or alive, who would it be, and why? Marylin Monroe, to ask her, what the hell happened?

Who has been the most insipiration person in your life? My mum

What advice do you have for upcoming models? Aim to the best, then be that little bit better, stand out from the croud;)


What can fans do to support your career?
Fans can always find out a lot more about me by joining my official website www.saffrontaylor.com, I have so much in store for them, some great
exciting projects on the horizon too;)
(MV - Do we get a complimentary pass to check it out?)
Any final farewell Message for fans? I just want to thank all my fans and friends for supporting me over the last couple of years and for joining my website, I have received so many emails saying they love the site and I promise it will be getting better and better! If you have not already joined, then visit www.saffrontaylor.com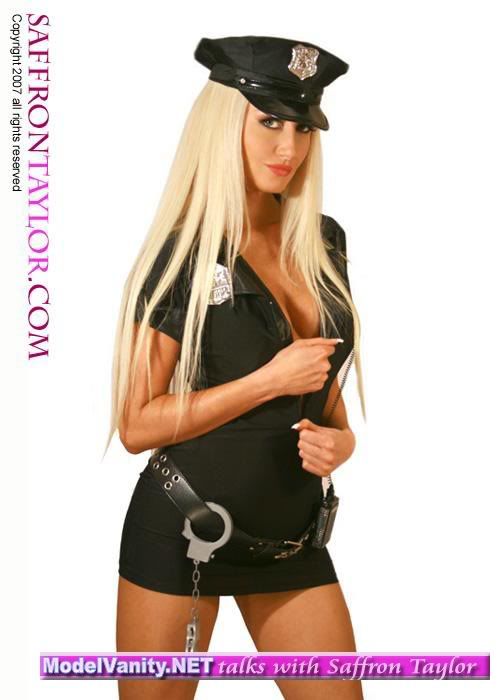 Share