Tweet
Share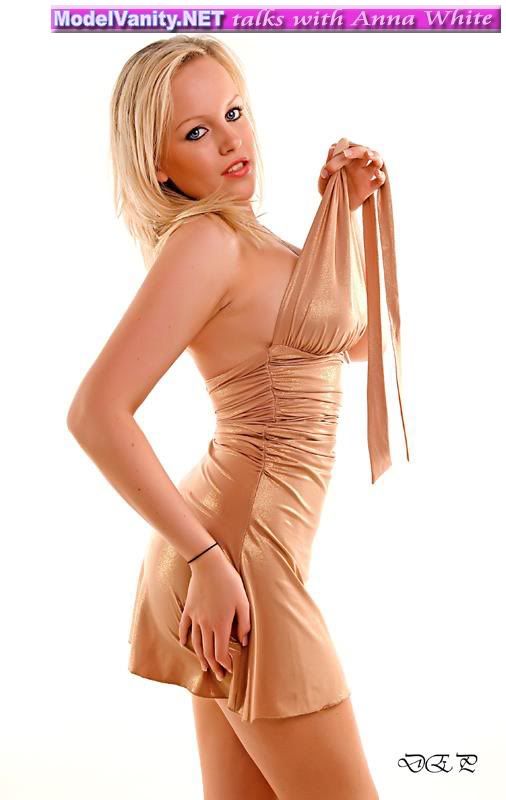 Name:

Anna White
Website:
annawhiteofficial.com
and
myspace.com/diirty_dahling
Height:
5'7"
Weight:
9st
Measurements:
32/34"DD 26" 34"
nationality:
British
Hometown:
Newcastle
DOB:
10/09/89
Languages Spoken:
English
Occupation:
Student/model
Turn On:
Humour
Turn Off:
Bad hygiene
Favorite Designer:
Matthew Williamson
Favorite Clothing Store:
Selfridges
Favorite Photographer?
Michael Vincent/Alan Strut
Runway or Glamour?
Glamour
Favorite Magazine besides ModelVanity?
Harpers, Cosmopolitan
Sexiest Man?
The guy of the D&G light blue advert (the 1 in the boat)
Do you sleep naked?
No...Stewie griffin (family guy) t shirt
Thong, Panties, Commando?
bit of both
Favorite Digital Gadget?
my camera
Favorite Possession?
my car
Any Pets?
no
What 3 Items on a deserted Island?
a helicopter, a bikini, sherbet.
Tropical or Cold climate?
tropical
Hyper or Chill?
hyper
Favorite Car:
lamborghini
Favorite food? or Drink?
Sherbet and Vodka Skittles
Favorite Music
Kate Nash
Bedtime
late
Vegas, Miami, Hollywood, Ibiza, Paris, London, Dubai, Hong Kong, Tokyo?
ALL of them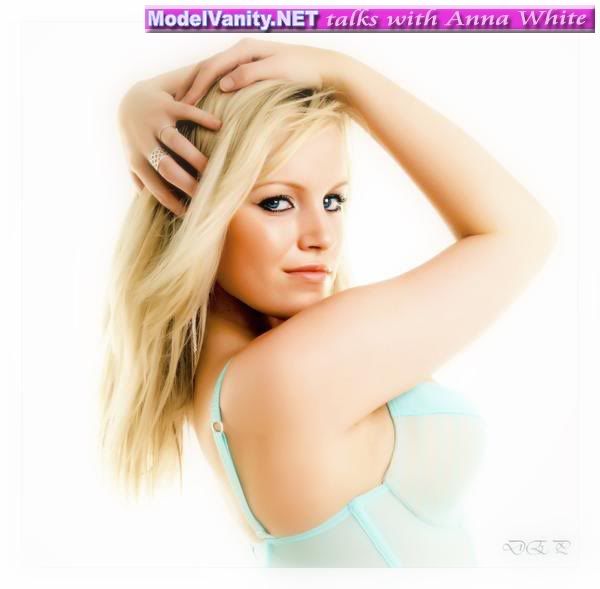 Anna, What was life like growing up?

just the same as it was for any kid i guess.



Were you popular in High School?

I had alot of close friends



What is the first compliment you get?

my boobs or if they're abit more gentlemanly my eyes or smile



How did you start modeling?

I started when i was 4



What was it like to pose the first time?

I cant remember really i was so young



Do you get nervous before your shoots?

Nope

How long have you been modeling?

14 years



What is your favorite type of pose?

A flirtatious one, with abit of mystery



What sets you apart from other models?

I come alive infront of the camera and dont require too much direction



Who is your favorite model?

Claudia Shiffer



What makes a good photographer?

A good camera, knowledge of angles, experience, and photoshop skills.



What do you do to keep fit?

go to the gym and go dancing with the girls



Are you enhanced?

nope..all natural



Any current exciting projects your working on?

..ing my A levels in Psychology, english language, health and social care.



What has been your most significant accomplishment in the industry so far?

I think enjoying it is the biggest accomplishment of all. other than that i have done lots of work around the UK and publications abroad.



Ever thought about acting?

I was in shows as a kid, but other than that ive never really considered it. It would be fun to try though.



What are you dreams/goals in life?

To be content in everyway.

What can fans do to support your career?

Follow my work and help when its needed but mostly just enjoy what I do, thats what its for anyway.



Do you like to travel?

I love it.



What is your favorite place to visit?

Puerto Banus



What Makes you feel sexy?

A sexy outfit and sexy music



Has anyone ever tried to hold you back in life?

Yes. I dont put up with people like that though



Is there a significant other in your life currently?

There is!



What can guys do to be more attractive to women?

Stop with the macho act. Coz normally its the un-macho lads that try too hard to pull it off.



If you could meet anyone dead or alive, who would it be, and why?

Bridget Bardot.. shes fab!



What is the best compliment you ever had?

I love it when gay blokes say im pretty coz i know theyre not just trying to get laid.



Who has been the most insipiration person in your life?

My mum!!!



What advice do you have for upcoming models?

Fame isn't sexually transmitted!



Any final farewell Message for fans?

See you soon!
Share