Tweet
Share
Name:
Daniela Victoria
Website:
danielav.com
and
myspace.com/daniela_the_model

Height:
5'9''
Weight:
135
Measurements:
36c-25-36
nationality:
Italian and Russian
Hometown:
Somerset NJ
DOB:
5-16
Languages Spoken:
English and some Spanish
Occupation:
Model and matrimonial paralegal (I divorce people)
Turn On:
A good sense of humour
Turn Off:
A big ego
Skills:
Lots of kinky yoga poses
Ink? How many?:
None- I'm chicken shit!
Favorite Designer:
Betsey Johnson
Favorite Clothing Store:
Guess
Favorite Photographer?:
Steven Meisel
Runway or Glamour?:
Both!
Favorite Magazine besides ModelVanity?:
Playboy
Sexiest Man?:
Mine!
Sexiest Woman?:
Angelina Jolie- no competition at all!
Do you sleep naked?:
is there any other way?
Thong, Panties, Commando?:
thong or commando
Favorite Digital Gadget?:
My camera that records film
Favorite Possession?:
my college class ring
Any Pets?
Golden retriever
Do it yourself type?
(y/n) Yes!
What 3 Items on a deserted Island?
A cell phone that works, a bottle of rum, my ipod
Tropical or Cold climate?
Tropical
Hyper or Chill?
Hyper
Favorite Car:
A viper
Favorite food? or Drink?
Sushi and Chianti
Favorite Music:
Anything but country
Vegas, Miami, Hollywood, Ibiza, Paris, London, Dubai, Hong Kong, Tokyo?:
Ibiza



Daniela, what was life like growing up?:

Difficult. I was the ugly girl that everyone made fun of and none of the boys would ask out



Where you popular in High School?:

No way. I was always very opinionated



What is the first compliment you get?:

Nice rack



How did you start modeling?:

I was working at Hooters and I fell into some promotional work...and then I needed new acting headshots and ended up starting a modeling portfolio



What was it like to pose the first time?:

Considering I was naked, I was surprisingly relaxed. Modeling is just like acting, but without words.



Do you get nervous before your shoots?

No way. I know they are going to rock.



How long have you been modeling?

It's three years this February



What is your favorite type of pose?

Anything sexy and seductive



What sets you apart from other models?

I'm not a diva- I'm actually very corny and I think I'm very funny. I'll pose no matter what the conditions are and I won't bitch about it.



Who is your favorite model?

There are so many to choose from, but the Victoria's Secret Angels are on the top of the list, especially Adrianna Lima



What makes a good photographer?

Someone that is creative and has an eye for a good image. Someone that just continues to shoot and can get me at least one good image from a set.



What do you do to keep fit?

Yoga, cardio and strength training. Oh, and ballet!



Are you enhanced?:

No- just blessed



Any current exciting projects your working on?

I'm putting together my commercial portfolio, so I'm very excited about that!



What has been your most significant accomplishment in the industry so far?

I shot for Playboy in November 2007.


Ever thought about acting?

I've been acting longer than I've been modeling and that's my true passion. I recently auditioned for a movie and I really hope I get the role.



What are you dreams/goals in life?:

Centerfold in Playboy, get signed by a commercial modeling agency...basically be able to model till the day I die.



Where will you be in 5 years?

Hopefully still modeling and even more successful!



What can fans do to support your career?

They can just direct people to my website, vote for me in contests, send me signs to post on my MySpace page...



Do you like to travel?:

i love it and I want to travel more!



What is your favorite place to visit?:

I love California. Hardcore



What Makes you feel sexy?:

Matching panties and a bra, champagne, whipped cream



Has anyone every tried to hold you back in life?:

My family was never really supportive, except for my mother. But the only person that can hold you back is Y=O=U.



Is there a significant other in your life currently?:

Yes, and he had me at "hello"

What can guys do to be more attractive to women?:

Be respectful. Buy a girl a drink..if she doesn't talk to you, you're only out 6 bucks- so don't be cheap. Be aggressive- you want a girl? Go get her.



If you could meet anyone dead or alive, who would it be, and why?:

Jesus. C'mon- do you even have to ask why?



What is the best compliment you ever had?:

I'm still waiting for it.



Who has been the most insipiration person in your life?:

My mom. Single mother. Phenomenal woman.

What advice do you have for upcoming models?:

Be realistic with your goals. Hustle and answer casting calls. Get your name out there any way that you can.



Any final farewell Message for fans?:

Stop by my myspace page and say hello!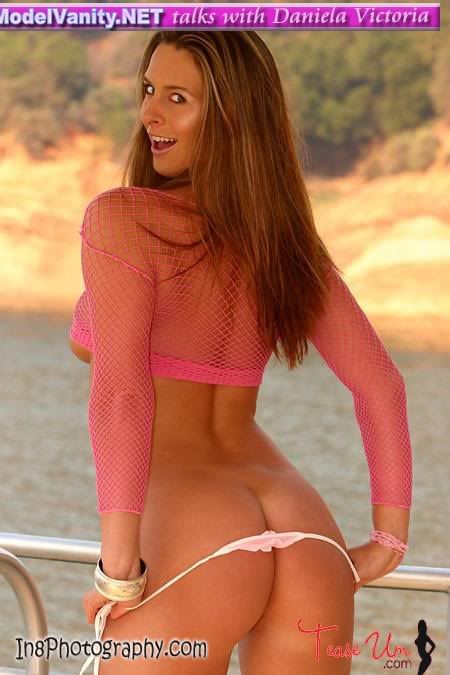 Share