Tweet
Share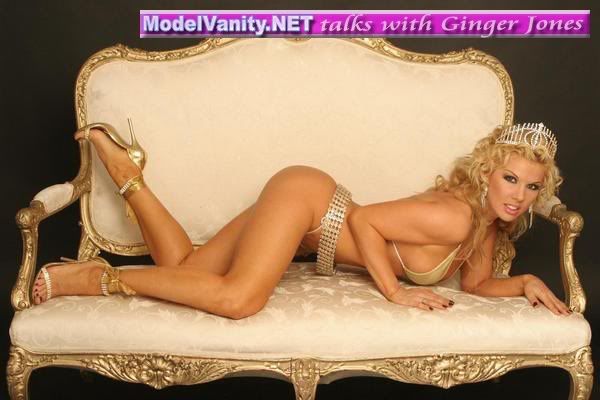 Name:

Ginger Jones
Website:
gingerjones.hu
Height:
171cm
Weight:
57kg
Measurements:
96cm-65cm-93cm
nationality:
Hungarian
Hometown:
Budapest
Languages Spoken:
English, Hungarian, a little Spanish and Italian
Occupation:
feature performer, glamour model, exotic dance teacher
Turn On:
massage, candle light dinner, gentlemen, who is sporty and has good sense of humour
Turn Off:
dirty impolite people
Skills:
university degree (psychology)
Ink? How many?
no
Favorite Designer:
i have a lot
Favorite Clothing Store:
i have a lot
Favorite Photographer?
I have a lot
Runway or Glamour?
absolutly glamour
Favorite Magazine besides ModelVanity?
Playboy/Penthouse
Sexiest Man?
difficult question....
Sexiest Woman?
dita von tease
Do you sleep naked?
of course...
Thong, Panties, Commando?
Panties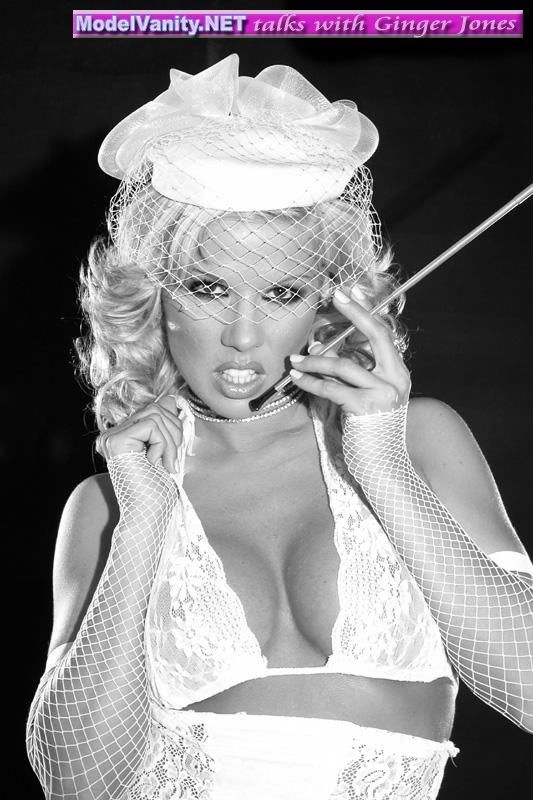 Any Pets?
greyhounds
What 3 Items on a deserted Island?
boyfriend, laptop, sun lotion
Tropical or Cold climate?
tropical
Hyper or Chill?
hyper
Favorite Car:
ferrari
Favorite food? or Drink?
sushi, mojito
Favorite Music
everything except techo, rave and d&b
Vegas, Miami, Hollywood, Ibiza, Paris, London, Dubai, Hong Kong, Tokyo?
All! I love to travel!



Ginger, what was life like growing up?

I had a really nice childhood
Where you popular in High School?

Yes, i was.



What is the first compliment you get?

From my grandma, when i was 3 years old."You are a real princess."



How did you start modeling?

A hungarian agency invited me to registrate in their database



What was it like to pose the first time?

It was fun, i did really love it!



Do you get nervous before your shoots?

Never



How long have you been modeling?

for 10 years.

What is your favorite type of pose?

from back....



Who is your favorite model?

I don't have favourite...in these days i love pin up models alot



What do you do to keep fit?

lots of cardio training and dancing



Any current exciting projects your working on?

I'm doing a francise exotic dance school line



What has been your most significant accomplishment in the industry so far?

PLAYBOY/Penthouse/hustler covers,Striptease Champion Trophies



Ever thought about acting?

no



What are you dreams/goals in life?

To have my beautiful house with lots of dogs,and of course a sportscar...Be happy with my family,and have children in 5 years...to run my
companies...



Where will you be in 5 years?

I'll be a very successful businesswoman, with 2-3 more exotic dance scool all around Europe...



What can fans do to support your career?

Come and see me when i'm performing,order from my webshop



Do you like to travel?

One of the best thing in my life



What is your favorite place to visit?

Hot places!



What Makes you feel sexy?

training,take care of myself, good sex,and sexy clothes



Has anyone every tried to hold you back in life?

no



What can guys do to be more attractive to women?

Be sporty,elegant,respectful and real gentlemen



If you could meet anyone dead or alive, who would it be, and why?

Marylin Monroe and Dita von Tease.They are my idols



Who has been the most insipiration person in your life?

the famous stripper and burlesque dancers in the past



What advice do you have for upcoming models?

Have fun and don't use drugs.


Any final farewell Message for fans?

Visit my site!
Share