Tweet
Share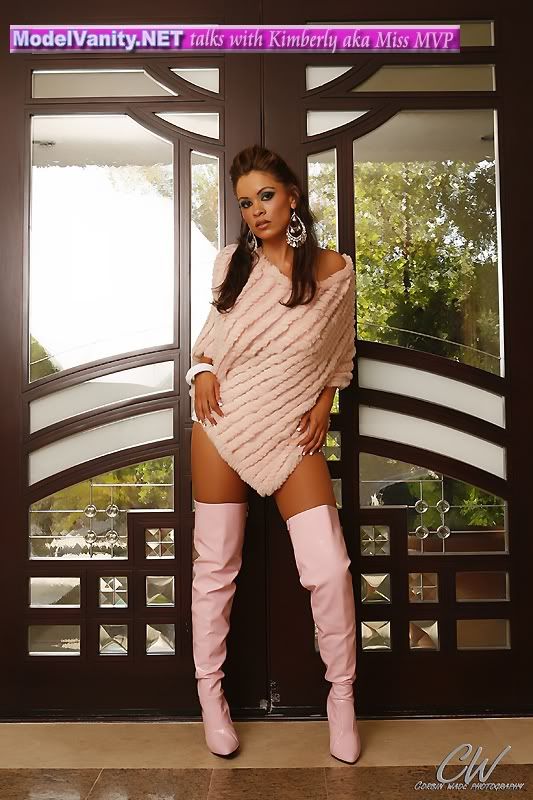 Name: Kimberly aka Miss MVP
Website: www.myspace.com/photofinishface

Height: 5'8"
Weight: 128
Measurements: 34" 28" 36"
nationality: Caucasian
DOB: 03.03.81
Languages Spoken: English
Occupation: Professional makeup artist/model

Turn On: Attitude and confidence. Someone that exudes confidence without coming across as being above anyone else is sexy for sure.
Turn Off: Guys that think they are the hottest thing walking and are still trying to convince
themselves of it.
Skills: Professional makeup artistry, Computers, Dance, Scuba Diving & Sports.
Ink? How many? None. Could never do that to my body but don't judge people that do.

Favorite Designer: BCBG Max Azria
Favorite Clothing Store: The Forum Shops at Caesars Palace
Favorite Photographer? CW Photography
Runway or Glamour? Glamour
Favorite Magazine besides ModelVanity? Vogue

Sexiest Man? Antonio Banderas
Sexiest Woman? Kim Kardashian
Favorite Digital Gadget? Camera of course

Favorite Possession? Vehicle
Any Pets? No
Do it yourself type? (y/n) Definitely yes

What 3 Items on a deserted Island? Razor, Lotion, Food
Tropical or Cold climate? Tropical for sure!
Hyper or Chill? I have a tendency to be both at different times of course.
Favorite Car: Lamborghini
Favorite food? Love all kinds of different salads. Love steak and shrimp as well.
Favorite Music: LOVE all kinds of different music.
Vegas, Miami, Hollywood, Ibiza, Paris, London, Dubai, Hong Kong, Tokyo? Paris, never been but, I want to go sooo bad!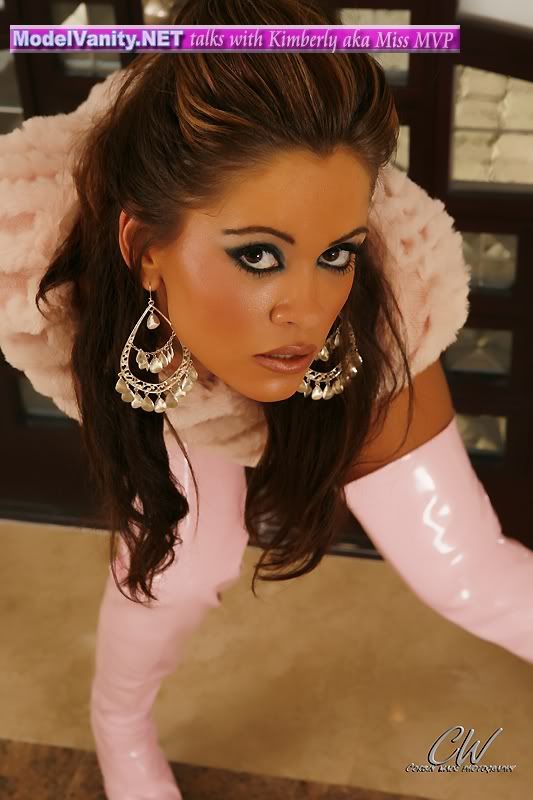 Kimberly,
What was life like growing up? I was very blessed to grow up in an amazing home with four older brothers and two very
supportive parents. I couldn't have asked for a better life.

Were you popular in High School? Yes but, I was friends with ever
yone. I Loved high school and all my friends were great!

What is the first compliment you get? I usually get complimented on my nose because it is very unique and then my eyes and smile.

How did you start modeling? I was approached many times about modeling when I was younger. I also was an extra in movies from the time I was born. My friend, Karen, who is a photographer asked to take some pictures of me and everything kind of took off from there.
What was it like to pose the first time? For the first big shoot that I did, I was really sick that day. The shoot involved fire all around me and the propane made me sicker and sicker. I
don't know how I ended up with any good facial expressions but the pictures turned out great.
Do you get nervous before your shoots? No because I am very selective with the photographers I shoot with.

How long have you been modeling? 2 years.

What sets you apart from other models? My personality for sure. I am fun and easy going. I will do what I say I'm going to do. I don't expect to be catered to. I am there to have fun and do my job and make the set a fun atmosphere to be in.
Who is your favorite model? Tyra Banks because she has the modeling concept down to a science. (MV - Tyra is popular)

What makes a good photographer? Someone that can bring out the best in who or what they are shooting. They have the skills to make the shot unique and create pictures that will stand out above the rest.

Are you enhanced? I have had breast augmentation.

Any current exciting projects your working on? Any project that I accept is something that is fun and exciting to me at the time.

What has been your most significant accomplishment in the industry so far? Each project is an accomplishment to me. It is all a step closer to newer and greater things. Therefore, I consider them all to be equally as important.

Ever thought about acting? I did a few commercials in 2007.

What are you dreams/goals in life? To ride the ride of life wherever it takes me. When one door closes, another opens. I just want to be happy in whatever it is that I am doing at the moment. I want to be the best person that I can be.

Where will you be in 5 years? You can never say never. You can also never guarantee where you will be. Life changes at a dramatic pace. Who knows where life will take me in 5 years. Regardless of where I am at, I know I will be happy.

What can fans do to support your career? There are so many different things that fans
can do to be supportive. All the way from sending an encouraging message, to voting for me in contests, to letting me know or recommending me for when there are certain jobs available.

Do you like to travel? I love to travel and hope to do a lot of it in 2008.

What is your favorite place to visit? I truly have fun wherever I go!
What makes you feel sexy? Working out, tanning, and compliments of course!

Has anyone every tried to hold you back in life? Absolutely! Multiple times! People that
are jealous, have a personal vendetta, or just don't want to see you succeed. You have to rise above it and remember that there are more people that are there to support you than there are to bring you down. It's important to surround yourself with positive influences.

Is there a significant other in your life currently? No. I am Very selective with who I choose to give my time to.

What can guys do to be more attractive to women? Treat girls with the respect that we deserve. Open car doors and be gentlemen. Simple things will get you sooo much further. It means more to us then guys know. (MV - We dont know, we're cave men)


What is the best compliment you ever had? I am constantly told that I am more beautiful on the inside than I am on the out. It means a lot to hear that people appreciate what is in my heart since most people just want to compliment my outward appearance.

Who has been the most inspiring person in your life? My mom for sure. There is no one else like her. She is the most caring person on the planet and she has a heart of gold. I confide everything in her. I also get advice from her on a daily basis. She is my biggest fan and I know that no one will ever love me as much as she does. I have so much respect for her and love her more than life.

What advice do you have for upcoming models? Be smart. Be careful with who you shoot with and the jobs that you accept. There are a lot of corrupt people in this industry but there is also a lot of good. Use your head and go with your gut instinct. Also, stay level headed and maintain a pleasant personality so that people will enjoy working with you.
Any final farewell message for fans? I just want to thank everyone that has supported me and for the kind messages of support that I have received. This day in age there are a lot of shady people but, there are also some amazing people and I am lucky enough to be able to call them friends. Thank you again!
Share