Tweet
Share
Name: Kristia Bonita
Website: www.myspace.com/kristiabonita

Height: 5'6"
Weight: 112lbs.
Measurements: 32-24-32
nationality: prussian, norwegian, swedish, irish, french
Hometown: Hudson, WI
DOB: 4-15
Languages Spoken: English, Spanish, a little German
Occupation: Slashie... Go Go Dancer/ Makeup Artist / Model/ Actress

Turn On: Beautiful eyes, tattoos, & goofy sense of humor
Turn Off: chauvenism and bad hygiene
Skills: You know I got some.... ;-)
Ink? How many? Not yet.
Favorite Designer: Roberto Cavalli
Favorite Clothing Store: Heatbreaker in Minneapolis, MN
Favorite Photographer? David LaChapelle, but I haven't worked with him yet.
Runway or Glamour? Glamour
Favorite Magazine besides ModelVanity? Allure

Sexiest Man? Celeb-wise, Brandon Boyd of Incubus... non-celeb... whomever I am dating.
Sexiest Woman? That's a hard one... not sure.
Do you sleep naked? most of the time
Thong, Panties, Commando? That's quite personal... boy shorts
Favorite Digital Gadget? my cell phone

Favorite Possession? confidence... material stuff doesn't matter. (MV - Great answer, but now we're taking away your sports car...)
Any Pets? my dog Sprocket, half long haired Chihuahua and standard Pomeranian.
Do it yourself type? (y/n) Always.

What 3 Items on a deserted Island? a motorboat, gasoline, and bottled water... so I can get myself off that island and come back with a date.
(MV - What about Gilligan)

Tropical or Cold climate? neither... why not someplace temperate??? (MV - Global warming dammit!)

Hyper or Chill? Hyper
Favorite Car: Aston Martin
Favorite food? I eat just about everything. or Drink? Chocolate shakes
Favorite Music? House music all night long
Vegas, Miami, Hollywood, Ibiza, Paris, London, Dubai, Hong Kong, Tokyo? Each one has a place and time... Live in Hollywood, WMC in Miami, Ibiza in August, Paris in the springtime, Vegas on the weekends... I have never been to Dubai ,Tokyo or Hong Kong... but I
can't wait to find out!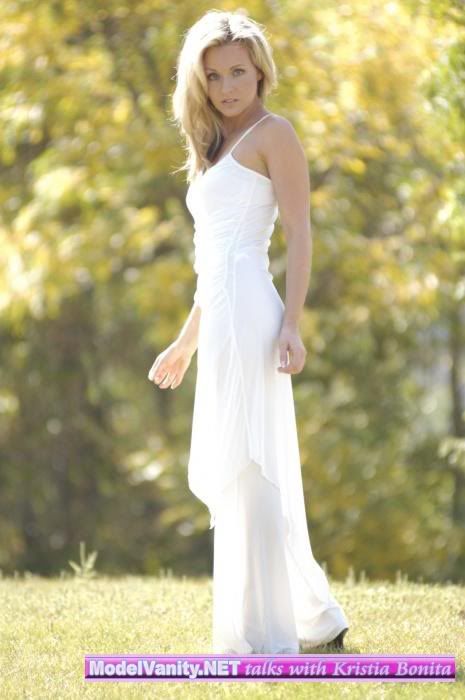 Kristia, What was life like growing up? Tough... I was very shy and introverted.

Where you popular in High School? I wasn't the most popular girl, but I was liked. (MV - The most popular girl usually ends up .... ah nevermind)

What is the first compliment you get? I have no idea???

How did you start modeling? I was 5 years old and my mother got me into it to make me
more extroverted.

What was it like to pose the first time? That was so long ago... every time is like the first time when you are with different photographers.

Do you get nervous before your shoots? No. (MV - We get nervous with these interviews)


How long have you been modeling? Since I was 5... there was a hiatus whe I was in middle school (very gauwky phase of my life). Over 15 years, I guess?

What is your favorite type of pose? One with my clothes on. (MV - Scratch Playboy)

What sets you apart from other models? Lack of hand and eye coordination. I am joking. 5 years ago I would have said my height, but these days alot of glamour models are well below standard model height requirements, so my unusual nose, dimples and my strange feet and hands set me apart.

Who is your favorite model? Without a doubt Paulina Poriskova

What makes a good photographer? Someone who directs your emotion.

What do you do to keep fit? Just my normal job as a Go Go.

Are you enhanced? Like a special edition DVD? I don't think it's anyone's business if I am or not. People are entitled to do whatever they want to their bodies or faces. It's not a character issue.

Any current exciting projects your working on? Cleaning my room. If you know me, then you know what I mean!

What has been your most significant accomplishment in the industry so far? It keeps on changing... I guess just coming from a shy, gawky little girl to being confident and loving myself.
Ever thought about acting? I have been acting as long as I have been modeling. Acting was my first love... modeling was by chance.

What are you dreams/goals in life? Ooh... I have a superstition about talking about my future. I always surprise myself.

Where will you be in 5 years? Alive.

What can fans do to support your career? Keep on doing what their doing... watch my shows and by my merchadise. Just keep on being the fantastic fans they are!!!

Do you like to travel? Like is an understatement... I LOVE to travel.

What is your favorite place to visit? Australia

What Makes you feel sexy? Having my hair done.

Has anyone every tried to hold you back in life? Yes... they are no longer a part of it. (MV - Good Job!)

Is there a significant other in your life currently? No... but that has the possibility of changing and I wouldn't mind that.

What can guys do to be more attractive to women? Stop being cocky and cheating on your girlfriends!

If you could meet anyone dead or alive, who would it be, and why? Hugh Hefner... I have been so close to him many times, but he just fascinates me. I would love to have an actual conversation with him about hw he started his empire. (MV - We choose Bill Gates and Steve Jobs... oh wait, we already met them...)

What is the best compliment you ever had? "I underestimated how smart you were because of how you look... I am sorry."

Who has been the most insipiration person in your life? Without a doubt my Mother.

What advice do you have for upcoming models? Trust in yourself and never let anyone hold you back or say that you aren't pretty enough or that you will never make it!!! (MV - Thats right!)

Any final farewell Message for fans? Treat others as you would like to be treated and love will follow!!!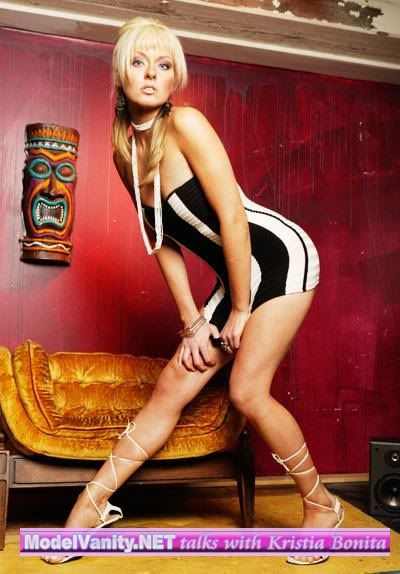 Share