Tweet
Share
Name:

ALESHA PAULETTE BELL
Website:
MYSPACE.COM/ALESHABELL

Height:
5'5"
Weight:
125
Measurements:
34-25-41
nationality:
AFRICAN-AMERICAN
Hometown:
DETROIT,MI
DOB:
09-10-81
Languages Spoken:
ENGLISH
How long modeling?
6YEARS
Occupation:
HOOTERS GIRL, PRINT/PROMOTIONAL MODEL, FULL TIME HUSTLER!
Nickname?:
THE BODY
Turn On:
HONESTY, HUMOR, CHARM, HOT BODY (STOMACH & BACK ESPECIALLY, CREATIVE, ROMANCE
Turn Off:
LIARS, BAD BREATH, BAD DRESSER, BEING CHEAP
Favorite Designer:
CHANEL
Favorite Shoes:
ANY STILLETTO IN MY CLOSET
Favorite Makeup:
M.A.C.
Favorite Jewelry Designer:
DAVID YURMAN
Favorite Clothing Store:
BEBE OR ARDEN B
Favorite Photographer?
SHAWN DOWDELL
Runway or Glamour?
GLAMOUR
Favorite Magazine besides ModelVanity?
ESSENCE
Sexiest Man?
NELLY
(MV - We just shot him at Magic Show Las Vegas)
Sexiest Woman?
MELYSSA FORD
Do you sleep naked?
HECK YEAH!
Thong, Panties, Commando?
THONG
Favorite Digital Gadget?
MY IPOD
Favorite Possession?
MY SHOE COLLECTION (125PAIRS)
Do it yourself type?
NO
What 3 Items on a deserted Island?
LIP GLOSS, BIKINI, MY LAPTOP
Tropical or Cold climate?
TROPICAL
Hyper or Chill?
HYPER :)
Favorite Car:
BMW 645- BLACK ON BLACK WITH 24" RIMS
Favorite food? or Drink?
CHOCOLATE/ ANY TYPE OF RESLING WINE
Favorite Music?
RAP
Bedtime?
I NEVER SLEEP....
Vegas, Miami, Hollywood, Ibiza, Paris, London, Dubai, Hong Kong, Tokyo?
SHIT-ALL DEM'PLACES; I'M WORLDWIDE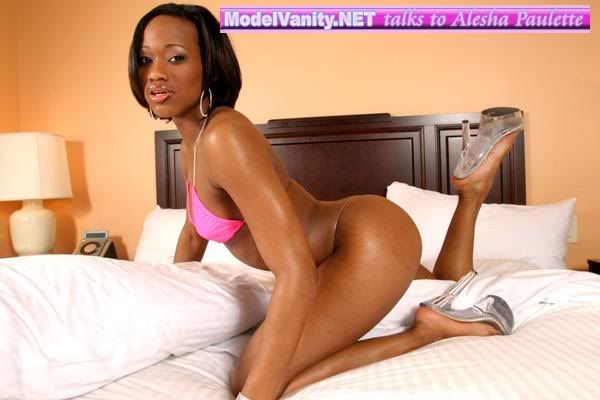 Were you popular in High School?

YES! I WAS A CHEERLEADER AND I DATED ALL THE FOOTBALL PLAYERS



What is the first compliment you get?

HOW BEAUTIFUL I AM- HOW NICE MY SMILE IS:)



How did you start modeling?

I WAS DISCOVERED AT THE MALL

What was it like to pose the first time?

I FELT SO UNCOMFORTABLE-WONDERING IF WHAT I WAS DOING WAS RIGHT



Do you get nervous before your shoots?

NEVER-I'M VERY COMFORTABLE IN FRONT OF THE CAMERA



What is your favorite type of pose?

ANY POSE THAT SHOWS MY CURVES IN A CLASSY WAY

What sets you apart from other models?

I AM NEW ON THE SCENE- HAVEN'T REALLY BEEN IN EVERYTHING AND I AM 100%NATURAL BEAUTY



Who is your favorite model?

ME(J/K) NAW- TYRA BANKS



What makes a good photographer?

A GOOD PHOTOG LISTENS TO HIS/HER MODEL! HE HAS HIS EQUIPMENT (LIGHTS AND ALL), GOOD CONCEPTS, PROVIDES A MAKEUP ARTIST, AND SHOOTS WITH A VISUAL EYES-DOESN'T JUST FOCUS ON ONE BODY PART....



What do you do to keep fit?

I HAVE A PERSONAL TRAINER THAT KICKS MY ASS 4X'S PER WEEK:)



Are you enhanced?

100% ALL-NATURAL



Any current exciting projects your working on?

YES! IAM IN THE 2008/2009 GLAMA GIRLS LINGERIE CALENDAR (MISS SEPTEMBER),I AM ALSO IN THE UNDISCOVERED ANGELS CALENDAR 2008 (MISS JANUARY), I AM SHOOTING FOR JET MAGAZINE BEAUTY OF THE WEEK, I WILL BE TOURING AROUND THE COUNTRY ON CALENDAR TOURS:)I WILL BE LAUNCHING MY OWN WEBSITE IN THE SPRING OF 2008-

ALESHAPAULETTE.COM

, I AM WORKING ON STARING MY OWN BUSINESSES IN THE FALL OF 2008: A LINGERIE LINE- "DREAMGIRL" AND MY OWN JEWELRY LINE
CALLED- "BELLA JULZ"



What has been your most significant accomplishment in the industry so far?

BEING IN THE GLAMAGIRLS.COM 2008/2009CALENDAR



Ever thought about acting?

ALL THE TIME:)



What are you dreams/goals in life?

TO BE HAPPY AND SUCCESSFUL IN EVERYTHING I DO.. .AND HAVE CHILDREN TOO:) lol



Where will you be in 5 years?

HOPEFULLY ALIVE:) LOL AND BALLIN' MY AZZ OFF



Do you like to travel?

YES! I DON'T LIKE TO STAY IN ONE PLACE



What is your favorite place to visit?

MY APARTMENT IN ATL -CUZ I'M NEVER HERE:) lol



What Makes you feel sexy?

SEEING MYSELF NAKED-IT'S THE TRUTH!
Has anyone every tried to hold you back in life?

NEVA-FUCK DEM HATERS!



Is there a significant other in your life currently?

NOPE-SEXY AND SINGLE:)



What can guys do to be more attractive to women?

MAKE TIME FOR THEM AND BE ROMANTIC!



If you could meet anyone dead or alive, who would it be, and why?

AALIYAH-SHE WAS A TOTAL INSPIRATION TO ME AS THE TOTAL EXPRESSION OF A CLASSY WOMAN



What is the best compliment you ever had?

THAT I INSPIRE THEM


Who has been the most inspiration person in your life?

MY MOTHER

(MV - Its always mums)





What advice do you have for upcoming models?

DON'T SELL YOURSELF SHORT-KEEP HUSTIN' AND DON'T PAY ANYBODY TO MODEL THEY SHOULD PAY YOU- YOU GET THE MONEY 1ST!!!



What can fans do to support your career?

BUY MY CALENDARS, SUPPORT ME AT MY APPEARANCES-SHOW UP,CONTINUE TO PRAY FOR ME AND MY SUCCESS:)

Any final farewell Message for fans?

EVERYONE HIT ME UP ON WWW.MYSPACE.COM/ALESHABELL SEND ME LOVE NOTES:) I WANT TO SAY THANK YOU TO MV FOR GIVING ME THIS OPPORTUNITY TO BE FEATURED ON YOUR SITE:) I AM EXCITED FOR WHAT HAS HAPPENED TO ME THIS FIRST MONTH OF THE YEAR AND I CAN'T WAIT TO GET THIS MONEY IN '08:) THANKS SOOOO MUCH! *MUAH* I'M OUT!

(MV - Wow our FIRST "thank you" - You got our blessing..keeping working it girl)
Share