Tweet
Share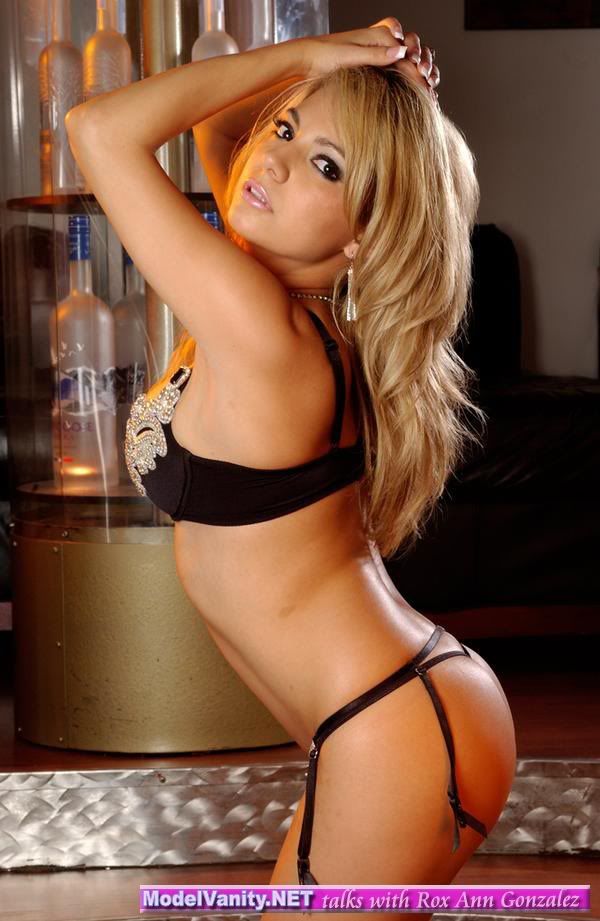 Name: ROX ANN GONZALEZ AKA ROXX
Website:
MYSPACE.COM/ROXXYFOXY
YOUTUBE.COM search MIKAL KNIGHT "SADDLE UP" VIDEO , AUSTINIGHTS.TV HOST
Height:
5'1
Weight:
100
Measurements:
34 D, 24, 33
nationality:
SPANISH/ MEXICAN HISPANIC
Hometown:
SAN ANTONIO TEXAS ;)
DOB:
APRIL 25 THE YEAR??? WELL I'LL NEVER TELL HEHE
Languages Spoken:
ENGLISH, A LITTLE SPANISH
How long modeling
? 3 YEARS
Occupation:
MODEL, ACTRESS, MAKEUP ARTIST ;)
Turn On:
CONFIDENCE, NICE MOUTH, GOOD TEETH
Turn Off:
COCKINESS, MACHONESS
Ink?
How many? 1
Favorite Designer:
HMMM I WOULD HAVE 2 SAY SALVAGE ;)
Favorite Shoes:
I LUUUV LUUUV LUUV SHOES.. DONT HAVE A FAV
Favorite Makeup:
MAC
Favorite Clothing Store:
323 FASHION OF COURSE THEY HAVE ALL THE DESIGNERS I LUV FROM L.A RGHT HERE IN S.A ;)
Favorite Photographer?
I HAVE 2.. FLORENT CARMIN , AND FERNANDO DEANDA..
Runway or Glamour?
GLAMOUR
Favorite Magazine besides ModelVanity?
HEHE MAXIM
Sexiest Man?
BRAD PITT
Sexiest Woman?
IT'S A TIE BETWEEN ANGELINA JOLI AND VICTORIA BECKHAM
Do you sleep naked?
OF COURSE I DO..
Thong, Panties, Commando?
DEPENDS ON MY MOOD AND THE WEATHER..HEHE
Favorite Digital Gadget?
MY TREO OF COURSE ..CANT LIVE WITHOUT IT!!
Favorite Possession?
MY TEACUP YORKIE
Any Pets?
MY TEACUP YORKIE NAMED PRISSY..I LUUV HER SOO MUCH
Do it yourself type? (y/n)
YES
What 3 Items on a deserted Island?
PHONE, LAPTOP,AND A PERSONAL ITEM (WONT SAY)
Tropical or Cold climate?
TROPICAL
Hyper or Chill?
CHILL
Favorite Car:
MAZZERATTI
Favorite food?
I LUV ALL FINE FOOD...
or Drink?
GREYGOOSE /CRAN
Favorite Music
I LIKE ANYTHING WITH A GOOD BEAT
Bedtime
.. WHEN I FALL ASLEEP... NEVER THE SAME
Vegas, Miami, Hollywood, Ibiza, Paris, London, Dubai, Hong Kong, Tokyo?
VEGAS , MIAMI, HOLLYWOOD ARE ALL GRREAT, I PERSONALLY LUUV HOLLYWOOD THE BEST.. WILL BE GOING TO PARIS THIS YEAR SOO I'LL LET U GUYS KNW HOW THAT GOES...



Roxx, What was life like growing up?

HMMM ALWAYS GETTING MY WAY OF COURSE..HEHE

Were you popular in High School?

YES..



What is the first compliment you get?

WOW YOUR SO BEAUTIFUL!! AND DOWN TO EARTH ;)



How did you start modeling?

DOING LIQUER PROMOTIONS FOR JACK DANIELS...



What was it like to pose the first time?

I WAS A LITTLE NERVOUS BUT MY PHOTOGRAPHER DID A GRRREAT JOB GUIDING ME (THANK U EARL CRAFT!!)



Do you get nervous before your shoots?

NOT ANYMORE.. I FEEL SOO COMFORTABLE AND LIKE THATS WHERE I BELONG...



What makes a good photographer?

SOMEONE WHO SHARES THE VISION WITH U TO CREATE A PERFECT 1 TOGETHER...



What do you do to keep fit?

SIT UPS SOMETIMES AND THATS IT..



Are you enhanced?

HAHAHA...



Any current exciting projects your working on?

I DID A ROAD TRIP FOR FRNCH MAXIM THAT SHOULD B COMING OUT WITHIN THE NEXT MONTH OR 2, I HOST A REALLY COOL SHOW CALLED AUSTINIGHTS.TV, I'M IN THE RUNNING TO BECOME THE NEXT RED SKYE COMIC BOOK CHARACTER, A TEASEUM BIKINI CALENDAR SHOOT, A MUSIC VIDEO CALLED SADDLE UP BY MIKAL KNIGHT WHICH WILL AIR ON THE COUNTRY MUSIC STATION AS WELL AS MTV, AND THATS ALL I KNW FOR THIS MONTH AND NEXT ;)



Ever thought about acting?

YES , SURE HAVE..HAD A SMALL PART IN THE MOVIE WILD HOGS LAST YEAR, AND LOOK FORWARD TO DOING MORE FILMS OR TV THIS YEAR...



What are you dreams/goals in life?

TO BE AN ACTRESS ;)



Where will you be in 5 years?

ACTING



Do you like to travel?

YES



What is your favorite place to visit?

THE BAHAMAS ..SOOO BEAUTIFUL



What Makes you feel sexy?

BEING MYSELF, BEING CONFIDENT



Has anyone every tried to hold you back in life?

HAHA.. YES , I DONT THINK THEY DID IT INTENTIONALLY THOUGH, BUUUT YA..



Is there a significant other in your life currently?

YES, HE'S OVER SEAS RIGHT NOW WICH MAKES ME A LITTLE SAD BUT GIVES ME MORE TIME TO FOCUS ON ME :)



What can guys do to be more attractive to women?

TAKE CARE OF THEMSELVES, FEET, TEETH , AND STYLE R VERY IMPORTANT
If you could meet anyone dead or alive, who would it be, and why?

MARILYN MONROE... THAT WOMEN HAD EVERYTHING AND ANYTHING SHE WANTED... WOW SHE WAS STUNNING AND ACCOMPLISHED SO MUCH DESPITE WHAT ANY1 ELSE THOUGHT



What advice do you have for upcoming models?

DONT TAKE NO FOR AN ANSWER, BE POSITIVE, AND CARRY URSELF WELL... OOOOH AND MAKE BUSINESS CARDS AND HAVE THEM ON U AT ALL TIMES..

(MV - THAT IS REAL IMPORTANT)
What can fans do to support your career?

U NEED FANS FOR CONTESTS ... WITHOUT UR FANS U R NOTHING... THEY BUY UR CALENDARS, WATCH UR MOVIES OR SHOWS, FOLLOW EVERYTHING U DO, ECT ECT...



Any final farewell Message for fans?

THANKS SOO MUCH FOR TAKING THE TIME TO READ THIS AND GET TO KNW ME A LITTLE BETTER;) BE ON THE LOOK OUT FOR ME!! XOOXOXOX MUUUUAH!!!
Share