Tweet
Share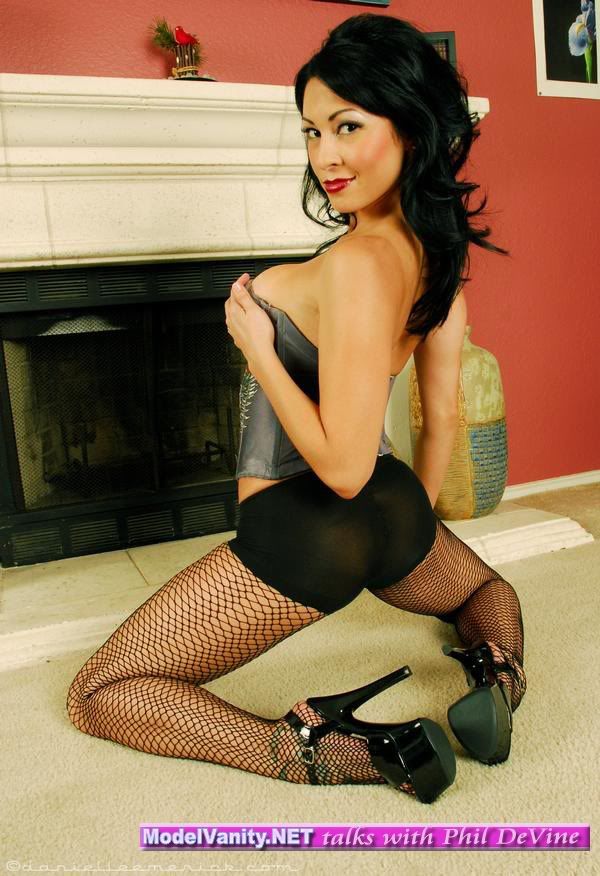 Name:

Philisa Giannukos – AKA: Phil DeVine
Website:
myspace.com/philisagiannukos
See Also:
monstergarage.com –
"Slow Motion" – "Spreading Holiday Joy"
It's a video of me with Mandy Pauline jumping on a trampoline
www.atomicpinup.com -
Modern Pin Up 6
Height:
5'4"
Weight:
110
Measurements:
32C Bust/ 25 Waist/ 33 Hips
nationality:
Spanish, French, American Indian, Mexican
Hometown:
Austin, TX
DOB:
01/28/1977
Languages Spoken:
English
How long modeling?
I've been modeling since 2001, BUT really focused and consistent for the
past year.
Occupation:
Mortgage Broker's Personal Assistant/ Marketing Coordinator/ Model
Nickname?:
Phil / Phil DeVine
Turn On:
Confident, funny people
Turn Off:
Liars and people who love to talk about themselves
Skills:
LOTS… I'm a fast learner. I've had all kinds of jobs. What do you need done??
Ink… How many?
YES… 4 tattoos
Favorite Designer:
I don't have a favorite. I like whatever looks good on me.
Favorite Shoes:
Any 'stripper" shoe… I feel like I'm 6' tall
(MV - Stripper shoes mean tips lol)
Favorite Makeup:
MAC
Favorite Fragrance:
CoCo Chanel (for right now)
Favorite Jewelry Designer:
Rough Stock Silver / Gems by Chao
Favorite Clothing Store:
Anything online. I don't the patience to shop at department stores, but I love boutiques.
Favorite Photographer:
Lithium Picnic (Houston, TX)
Runway or Glamour?
Punk Glamour!
Favorite Magazine besides ModelVanity?
US Weekly, Vogue
Sexiest Man:
Nicholas, a Dolce and Gabbana model (for right now)
Sexiest Woman:
There are LOTS… Tera Patrick, Jenna Jameson, Carmen Electra, Penelope Cruz, Eva Mendes
Do you sleep naked?
Sometimes
Thong, Panties, Commando?
Thong and Commando… depending on the attire
Favorite Digital Gadget:
My NEW Sony CyberShot camera
Favorite Possession:
My wedding ring
(MV - Awwwwww)
PC or Mac?
PC
Any Pets?
KUKU BLUE- my blue heeler (Australian Cattle Dog for you at home who don't know)
Do it yourself type? (y/n)
YES… VERY independent
What 3 Items on a deserted Island?
Sunscreen, water, Trail Mix bars
Tropical or Cold climate?
Tropical
Hyper or Chill?
BOTH… never know when it's gonna happen
Favorite Car:
1965 Ford Mustang with all original interior
Favorite food:
Mexican
Favorite Drink:
Big Red
Favorite Music:
Anything that gets my ass shakin'!! Love music!
Bedtime:
I don't go to bed any earlier than 12am… I think I'm an insomniac.
Vegas, Miami, Hollywood, Ibiza, Paris, London, Dubai, Hong Kong, Tokyo?
Can I do Hollywood, Vegas and then Miami?
(MV - No we dont have the money for all that)
So What was life like growing up?

I grew up with divorced parents. My mother, brother and I lived with my grandparents for a couple of years. My life was simple, I had no worries! Even though my mom didn't make much, I always had what I needed. I had a loving family. I have always been a dancer and was on the cheerleading and dance team in high school. After I graduated high school, I went to Southwest Texas State University in San Marcos, Tx and graduated in 2001. I don't regret a thing in my life. I have a very blessed life!



Were you popular in High School?

I think so… I sat at the "cool" table at lunch…LOL!



What is the first compliment you get?

"You're so gorgeous" I really hate when people talk about my looks and how it's this and that. I'm not the type of person to talk about myself like that. I can't even stand when people brag and talk about themselves.



How did you start modeling?

I've always been a performer. I've danced since I was 5 and have loved being in front of the camera. So modeling was always a dream of mine, and I'm
starting to
live it!



What was it like to pose the first time?

I think it was very natural.



Do you get nervous before your shoots?

Not nervous, just anxious… I love shooting!



Your most embarassing model shoot moment?

Haven't had one yet…

(MV - Just wait, it will
come lol)





What is your favorite type of pose?

Don't have one… But I do prefer the left side of my face over my right.



What sets you apart from other models?

I think it's my exotic look and humbling personality. I'm not a diva!



Who is your favorite model?

Victoria Secret model, Giselle



What makes a good photographer?

Knowing what is going to be most flattering in the photo… the models body type and angles, plus his own position and angle. I like for a photographer to be excited and be able give you direction when he sees it's not right.



What do you do to keep fit?

Cardio workouts, kickboxing, weights



Are you enhanced?

Yep!


Any current exciting projects your working on?

I'm working with Pin Up Garage Magazine, the first pinup magazine in 40 years. Also, I am featured in the 2008 Texas Girl Pin-Up Calendar.

You can get your signed copy by emailing me at phildevine3 (at) yahoo.com. Please put "calendar" in the subject box.
What has been your most significant accomplishment in the industry so far?
Getting to do photo shoots with some the most amazing photographers and becoming friends with Angel Jagger, my favorite makeup artist.



Ever thought about acting?

Sometimes



What are you dreams/goals in life?

I just want to be happy and prosperous.



Where will you be in 5 years?

Still Happy, Still Blessed, Still Loved and Still Prosperous



Do you like to travel?

I LOVE IT!!!!!



What is your favorite place to visit?

Los Angeles, California and Costa Rica



Has anyone every tried to hold you back in life?

Yep



Is there a significant other in your life currently?

I'm married to him. (O:



What can guys do to be more attractive to women?

Be sensitive and funny!



What is the best compliment you ever had?

Knowing that people can confide in me. I take my relationships with people very serious.



Any Sex Tips?

Not that I want to share.



Tell us something story about your PET.

Well, her name is Kuku Blue (pronounced coo-coo) because she is a Blue Heeler, and, she's exactly that - Coo Coo!!! She's like a hyperactive
child on caffeine...LOL! She LOVES to lick you, especially if you're wearing lotion, and will nibble on your toes, too. She's such a loveable dog, and very intelligent. I'm a proud mama!



Who has been the most insipirational person in your life?

The most inspirational person in my life has been my grandfather. He took me to my first dance class when I was 5. He introduced me to my passion. He is always interested in what's going on in my life, and has always encouraged me do do the things I've wanted to do.



What advice do you have for upcoming models?

Be yourself! Don't let people force you to do things you're uncomfortable doing.



What can fans do to support your career?

I just want their support. If I have prints and calendars for sale, please feel free to buy them and share with friends and family. If you have comments or questions, please email me at phildevine3 (at) yahoo.com.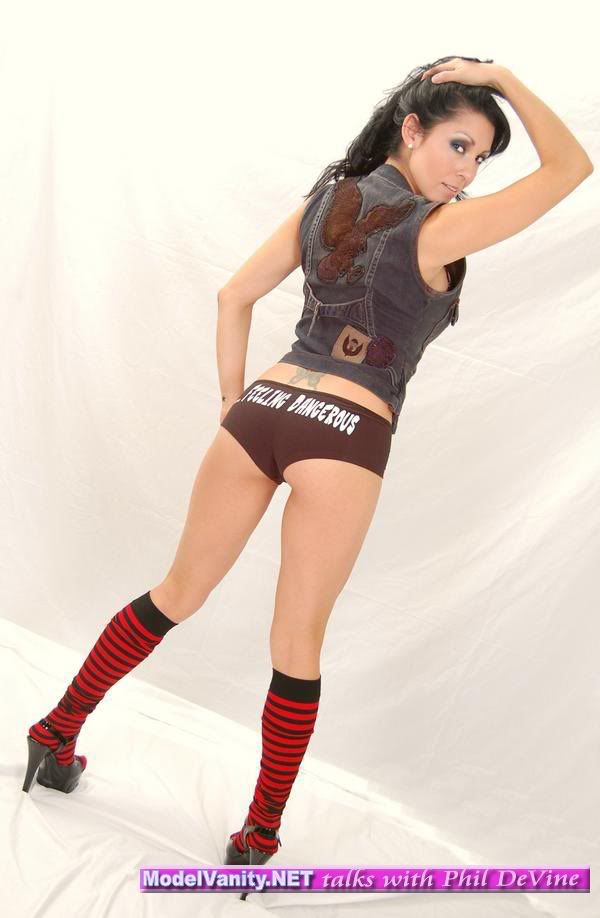 Share