Tweet
Share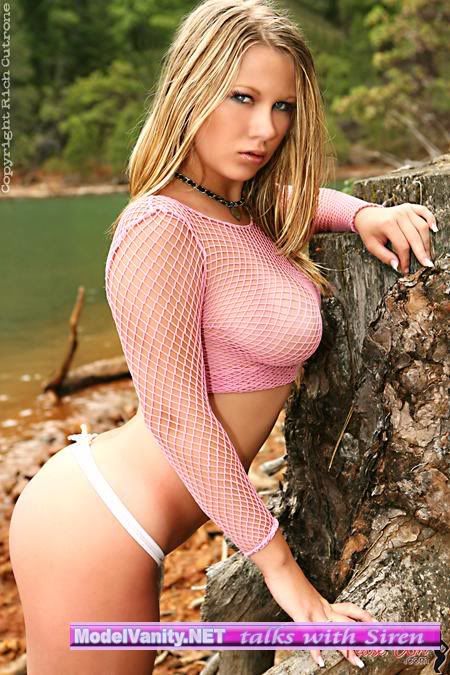 Name:

Siren
Website:
myspace.com/txsfrost
Height:
5'3
Weight:
115lbs
Measurements:
36D-27-32
nationality:
caucasian (english, swedish, german, japaneese)
Hometown:
Born in Texas, now residing in southern California
Languages Spoken:
English and some Spanish
How long modeling?
2 years
Occupation:
Model/ Direct Care Nurse
Turn On:
Teeth( sharp canines) humor, a guy thats in tune with my wants and needs
Turn Off:
Huge egos, pessimistic people, takers
Skills:
I love to dance... but if I started to list all my skills and hobbies the list would never end.
Ink? How many?
waves and om symbol on my ankle and a celtic heart on front
Favorite Fragrance:
Armani She, Calvin Klein Euphoria
Favorite Jewelry Designer:
Cartier and Tiffany's
Favorite Photographer?
I would get in trouble if I answered this one... to many:)
Runway or Glamour?
Glamour
Sexiest Man?
matthew mcconaughey.
Do you sleep naked?
Yes but i love wearing boy shorts and large shirts
Thong, Panties, Commando?
thong
Any Pets?
One cat named Milly
Tropical or Cold climate?
depends on my mood
Hyper or Chill?
mixed
Favorite food? or Drink?
Huge Sushi Fan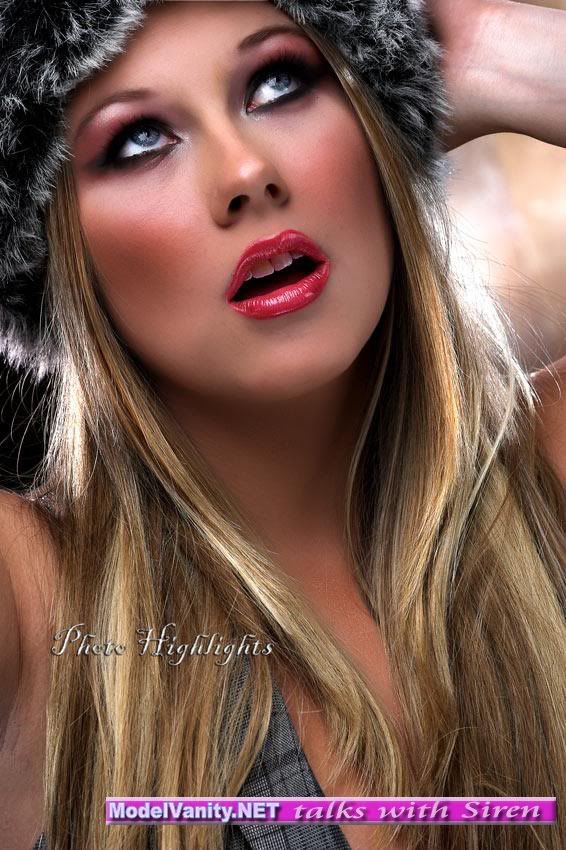 Siren, What was life like growing up?

Life was great for the most part. I have a wonderful and supportive family that has been by my side every step of the way. As far as middle school
goes .. i guess you could say i was the ugly duckling story.I got made fun of a lot until i reached high school then things changed.



What is the first compliment you get?

I have beautiful eyes and of course how big my boobs are

How did you start modeling?

I got asked to do a shoot by a photographer..and things started
from there



What was it like to pose the first time?

I was very nervous the first time, as the minute
s passed I became more comfortable and grew in love with modeling.



Do you get nervous before your shoots?

Typically not... I tend to talk to my photographers a lot before I shoot with them. Plus I love being in front of the camera



What sets you apart from other models?

Each model is different and unique in their own ways, but i would def have to say that my goal for modeling is
to be a role model for other woman and for women to know that you dont have to lessen your morals in life in order to succeed.



What makes a good photographer?

Def not photoshop... The way I see it is if you cannot take good picture without having to do a lot of photoshop then you were not very talented in the
first place. I love photographers that are interactive during shoots. As long as they make me feel
comfortable Im Golden!



What do you do to keep fit?

I love running on the beach. Water soothes me. So the beach is my favorite place to go to workout.



Are you enhanced?

You know I actually get asked this question a lot.... the answer is no. I am a 100% natural.



What has been your most significant accomplishment in the industry so far?

In all honesty not one is more important than the other. They have all been blessings in my life.



Ever thought about acting?

Yes



What are you dreams/goals in life?

I would like to further my career in modeling....and be featured in Playboy. I also have the desire to become an EMT. Now wouldn't that be hot..... A playboy model and an EMT at the same time



Do you like to travel?

I love going to the islands.



Has anyone every tried to hold you back in life?

Sad but true the answer is Yes.



Is there a significant other in your life currently?

Yes there is. I have a wonderful husband and a beautiful son.



What can guys do to be more attractive to women?

Be understanding and sympathetic of our needs. Show appreciation Just remember first impression is everything.



If you could meet anyone dead or alive, who would it be, and why?

Honestly there are way too many people that I would love to meet.



What advice do you have for upcoming models?

Just remember to stay true to yourself and your morals. You do not have to degrade yourself in order to get noticed by photographers



What can fans do to support your career?

Dont hesitate to send me fan mail... I love hearing from all of you. Just continue to support my career and show your love and support.



Any final farewell Message for fans?

Thank you so much for all of you that have been behind me in this journey.Your support means the world to me.
Share