Tweet
Share
Name:

ShawnaMichelle
Website:
Shawna-Michelle.com
and
myspace.com/scncbutterfly
ShawnaMichelle
Height:
5'6
Weight:
145
Measurements:
34-26-42
nationality:
African American
Hometown:
Beaufort, SC/ Living in Charlotte, NC for the past 8 yrs
DOB:
1-7-82
Languages Spoken:
English
How long modeling?
Seriously for a year now
Occupation:
Model/Parent/Student
Turn On:
Confidence, Good Hygiene, Intelligence
Turn Off:
Cockiness, Lying, Cheating
Skills:
Great Cook, Fashion Stylist, Makeup Artist
Ink? How many?
Of course, ink is so sexy! I have two, one of a butterfly that says "South Kackalack" and the other is my birthday written out with the Capricorn animal sign.
Favorite Designer:
Kimora Lee
Favorite Shoes:
any type of wedge sandals
Favorite Makeup:
Clinique
Favorite Fragrance:
Pink Sugar
Favorite Clothing Store:
BeBe
Runway or Glamour?
Glamour
Favorite Magazine besides ModelVanity?
XXL
Sexiest Man?
Ludacris
Sexiest Woman?
Beyonce
Do you sleep naked?
Sometimes
Thong, Panties, Commando?
Thong, but I do love sexy panties.
Favorite Digital Gadget?
iPhone
Favorite Possession?
Scrapbooks that contain 18 years of information about my life.
PC or Mac?
PC
Any Pets?
No
Do it yourself type? (y/n)
yes
What 3 Items on a deserted Island?
Cell phone, Boat, Food
Tropical or Cold climate?
Cold
Hyper or Chill?
Chill
Favorite Car:
Any Cadillac
Favorite food? or Drink?
Crab/Sweet Tea
Favorite Music
HipHop/Rap
Bedtime About 3am
Vegas, Miami, Hollywood, Ibiza, Paris, London, Dubai, Hong Kong, Tokyo?
I must say London.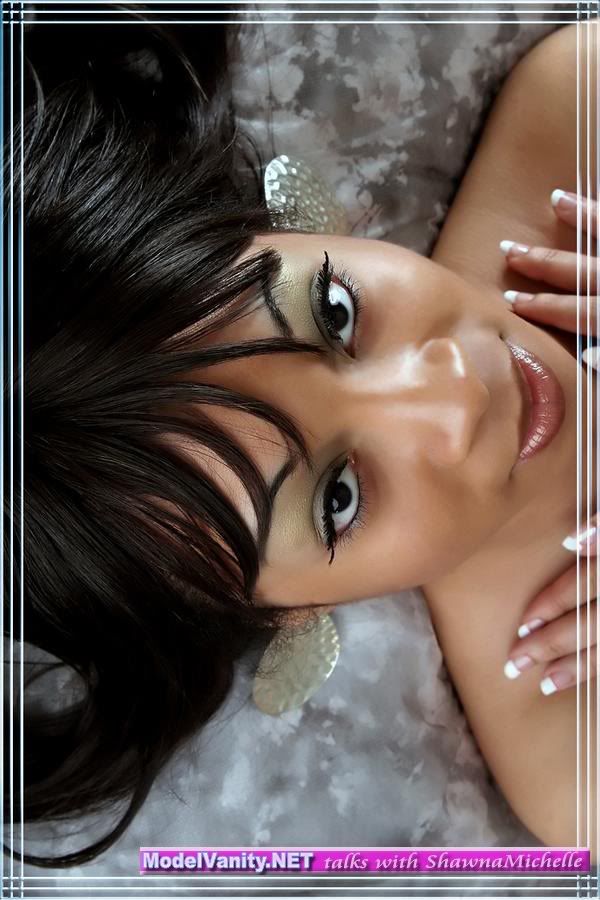 S
hawnaMichelle, What was life like growing up?

Boring at times because i grew up in a small town. We have beaches and islands. I ate a lot of seafood and rice. High school was great. I was a cheerleader all four years. I started working at 14 years old at a hair salon.



Were you popular in High School?

Yes. I am really down to earth and I dont act snobbish at all. I had a lot of friends and faculty that adored me.


What is the first compliment you get?

"Wow! You are really beautiful."



How did you start modeling?

A friend of mines got me my first professional photo shoot and I kept moving on from there. I networked and learned the industry. I still have a long journey ahead of me.
What was it like to pose the first time?

I have been posing for the camera since i was a little girl. It feels great, every time i do it i feel the same.



Do you get nervous before your shoots?

Sometimes if it is for a magazine or something that is not my project.

Your most embarassing Model shoot moment?

When i did a photo shoot right by a highway.



What is your favorite type of pose?

I love all the poses.



What sets you apart from other models?

I don't wait around for things to happen, I go get it.



Who is your favorite model?

Tyra Banks



What makes a good photographer?

A good eye and a great imagination.



What do you do to keep fit?

I work out three times a week. I dont really eat healthy, i just dont over eat.



Are you enhanced?

No. It crosses my mind, but I am happy with what I have, I will just work with it.



Any current exciting projects your working on?

Currently getting ready for my official website launch. I am also preparing a DVD of myself along with posters and other products.



What has been your most significant accomplishment in the industry so far?

Getting my official website.



Ever thought about acting?

Yes, I want to take some classes.



What are you dreams/goals in life?

I want to become a Fashion Stylist and eventually get my own clothing company along with other cosmetic products.



Where will you be in 5 years?

I hope to be in good health continuing to produce great clothing.



Do you like to travel?

yes

What is your favorite place to visit?

I love Orlando, FL. I have been going there since childhood.

What Makes you feel sexy?

High heels



Has anyone every tried to hold you back in life?

No, i would never let them.



Is there a significant other in your life currently?

No i am single.



What can guys do to be more attractive to women?

Have confidence.



If you could meet anyone dead or alive, who would it be, and why?

God, just want to know what really went on in the past.
Any Sex Tips?

Mix it up. Do it slow, fast, rough, hard, soft at different times. Teasing is also a plus.



Who has been the most insipiration person in your life?

My daughter



What advice do you have for upcoming models?

Have your own style and dont go by what other models are doing.

What can fans do to support your career?



Visit my website www.Shawna-Michelle.com and support my movement. I will have DVDs and posters for purchase.





Any final farewell Message for fans?


I appreciate the support and love. I will never forget you!
Share