Tweet
Share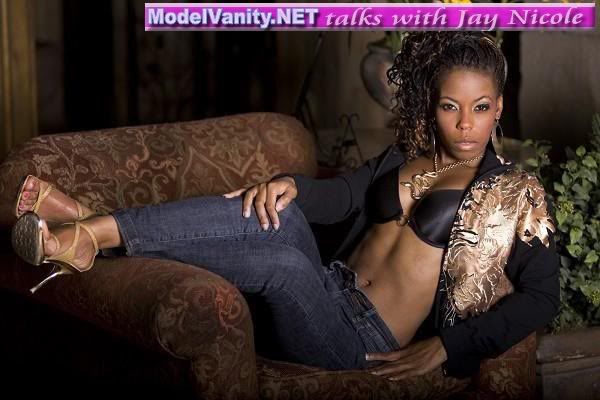 Name:

Jessica or Jay Nicole or Slimm
Website:
myspace.com/im_jessica_nicole
Height:
5'3
Weight:
105
Measurements:
34, 22, 36
Nationality:
African American
Hometown:
Born in Miami,FL and raised in Newark,NJ
DOB:
August 12, 1988
Languages Spoken:
English
Occupation:
Technical Support Representative
Turn Ons:
I love ripped abs, ripped arms, intelligence and confidence
Turn Offs:
Someone with bad breath, arrogance,
Ink? How many?
I have 1 Tattoo..3 stars on my right hip to represent my 3 little brothers..
Favorite Designer:
I LOVE..LOVE..LOVE BABY PHAT
(MV - We just shot the Models of Baby Phat)
Favorite Clothing Store:
on the eastcoast..its Against All Odds && on the west..its D.E.M.O
Favorite Photographer?
Pete Springer
Runway or Glamour?
Glamour(im a shorty)
Favorite Magazine besides ModelVanity?
Cosmopolitan is my guilty pleasure..
Sexiest Man?
Kevin Anthony Woodruff
Sexiest Woman?
Janet Jackson
Do you sleep naked?
Sometimes..
Thong, Panties, Commando?
Depends on the weather..
Favorite Digital Gadget?
The cell phone of course..
Favorite Possession?
My Treo..
Any Pets?
My sexy puppy Gerald..
Do it yourself type? (y/n)
Yes..Very independent but I can play a good damsel in distress..
What 3 Items on a deserted Island?
My cell, an endless supply of bananas and my man..lol..
Tropical or Cold climate?
Tropical..the warmer it is..the less clothes..
Hyper or Chill?
depends..
Favorite Car:
Chevy Malibu
Favorite food?
or Drink? My mom's Chicken Stir Fry and grape soda or juice..
Favorite Music:
R&B
Vegas, Miami, Hollywood, Ibiza, Paris, London, Dubai, Hong Kong, Tokyo?
Well Vegas is my current home and Miami is my birthplace but besides those two I'd say Paris..



What was life like growing up?

Growing up was rough. My family faced a lot of issues with money and drugs. I lost my dad in the fourth grade. My godfamily started to take care of me at the age of 6 and I was officially adopted at the age of 13. I started working at the age of 15 and I've been doing it ever since. I like to think I made out pretty well coming from those
circumstances.

(MV - We agree, congrats)




Where you popular in High School?

I was very popular in high school. I was a varsity cheerleader all throughout high school and I always had a popular boyfriend.



What is the first compliment you get?

The first compliment I usually get is on my eyes..Sometimes the color or the shape and sometimes both.



How did you start modeling?

Actually I started by doing a favor for a friend by wearing her makeup in her magazine and from there I was contacted by more and more people wanting to do
business.



Do you get nervous before your shoots?

No. I wasn't even nervou
s on my very first shoot. I'm comfortable with the camera.



How long have you been modeling?

I have been modeling for a year and a half now.



What sets you apart from other models?

I think what sets me apart from other models is that I aspire to be more than a video girl or someone on TV here and there. I'd rather be the STAND-OUT GIRL than the IT GIRL.



Who is your favorite model?

TYRA..I mean not only is she gorgeous and fabolous but she is so kind and has a huge heart..



What makes a good photographer?

Someone who knows the business as well as their product and someone who isn't a sleazeball..(I hope that doesn't sound rude)

What do you do to keep fit?

I really dont do anything..I eat whatever I want..I know its going to catch up with me later in life but I'm milking it for what its worth. I go to the gym..but I do more scamming on guys than working out.

(MV - You should be a trainer, its easier to do that)





Are you enhanced?

Oh no..All natural..



Any current exciting projects your working on?

Well like every Vegas model I am looking forward to the Magic Convention coming to town..

(MV - We were there... did you pose for our staff?)





Ever thought about acting?

All the time..I can see myself doing it..



What are you dreams/goals in life?

I stand 5'3 and 105 pounds but I dream to be on the SWAT team..I want to be a sniper..



Where will you be in 5 years?

If I'm lucky and things go as planned I will be married and maybe with child..



What can fans do to support your career?

Just show me love..I add everyone to my myspace..no rules..and I show love to everyone who shows love to me.



Do you like to travel?

I love to travel..I just wish had the means to do it more often..

What is your favorite place to visit?

My favorite place so far has been California but I will be visiting Jamaica in April for the first time..



What Makes you feel sexy?

When people take extra long glances at me or compliment me..



Has anyone every tried to hold you back in life?

There have been times when I've felt people were trying to do just that..



Is there a significant other in your life currently?

Well, My last relationship was a long distance relationship, which got pretty rocky but he is still a major part of my life and will continue to be so I would say yes..there is someone who currently holds my heart..



What can guys do to be more attractive to women?

Stop thinking their arrogance is coming across as confidence and stop mistaking a woman's confidence for arrogance.



If you could meet anyone dead or alive, who would it be, and why?

Keyshia Cole..I watched her TV series from beginning to end and Its like my life mirrors hers..I would love to talk with her personally..



What is the best compliment you ever had?

My last boyfriend would tell me that by getting me he felt like he hit the jackpot and how some of the things I said to him made him want to skip down the street..



Who has been the most insipiration person in your life?

My older sister is my rock..through any and everything..



What advice do you have for upcoming models?

Stay focused...nothing comes overnight..think like a millionaire but grind like a poor person..



Any final farewell Message for fans?

I love you all and thanks to everyone who has supported me..liked my look..showed me off to a friend or anything of the sort..Please keep showing me love and support and I will do the same..
Share