Tweet
Share
Name:

Meriah Nelson
Website:
MeriahNelson.com
Height:
5'7"
Weight:
113
Measurements:
34c-24-35
nationality:
American
Hometown:
Los Angeles
Languages Spoken:
English, some Spanish
Occupation:
Model, Show Host
Turn On:
Motivation
Turn Off:
jealousy
Skills:
Snowboarding, surfing, water skiing, horseback riding, yoga, wakeboarding.
Ink? How many?
Back of neck and inner left ankle
Favorite Designer:
Dior
Favorite Clothing Store:
Bebe, Guess,
Favorite Photographer?
David La Chapelle
Runway or Glamour?
Runway
Favorite Magazine besides ModelVanity?
Vogue
Sexiest Man?
Beckham
Sexiest Woman?
Angelina
Do you sleep naked?
Yes except for the Wintertime
Thong, Panties, Commando?
Panites
Favorite Digital Gadget?
Camera
Favorite Possession?
My Cat
Any Pets?
Krystal the cat
What 3 Items on a deserted Island?
Lip balm, shower, clean bed
Tropical or Cold climate?
Tropical unless there are mountains for snowboarding.
Hyper or Chill?
50-50
Favorite Car:
Yellow Ferrari
Favorite food? or Drink?
Chips and real Mexican salsa
Favorite Music:
everything by whiney R&B
Vegas, Miami, Hollywood, Ibiza, Paris, London, Dubai, Hong Kong, Tokyo?
ALL OF THE ABOVE. HAVEN'T BEEN TO IBIZA OR DUBAI YET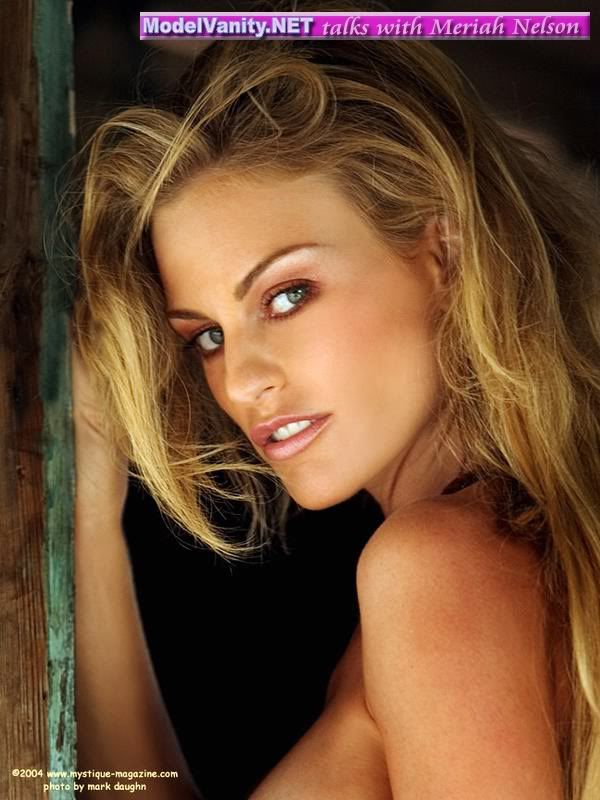 Meriah, what was life like growing up?

Dysfunctional family life after I turned about 11. Childhood was better but I was really shy. Teenage years were hard. I was insecure and all the bitches at school were mean to mean and made fun of me having a flat chest.
Where you popular in High School?

Good friends with the popular girls but I was like the side kick that got picked on by the "mean girls".



What is the first compliment you get?

Something about my body being in such good shape, or my abs are great.



How did you start modeling?

modeling school for shyness but then decided I liked modeling.



What was it like to pose the first time?

I knew it was for me.



Do you get nervous before your shoots?

Never, I am so use to it.



How long have you been modeling?

since about 18 years old



What is your favorite type of pose?

anything that makes my legs look as long as possible.

What sets you apart from other models?

I am skinny but curvy. Most models are one or the other.



Who is your favorite model?

Adriana Lima and all the Victoria's Secret Models.

What makes a good photographer?

Knowing how to light the model perfectly because poor lighting makes us look horrible.



What do you do to keep fit?

Yoga, hiking, running, weights, trampoline, stair climbing, snowboarding.

Are you enhanced?

Of course, I was tired of looking like a boy.



Any current exciting projects your working on?

Working on pitching my own reality show. A makeover idea I have. I want to be the host.

What has been your most significant accomplishment in the industry so far?

All the magazines I have appeared in all over the world.



Ever thought about acting?

Sure if it falls in my lap.



What are you dreams/goals in life?

To live an extraordinary life full of love, adventure, new experiences, and to be as enlightened as possible.



Where will you be in 5 years?

On top of the world!!!
What can fans do to support your career?

Spread the word the "Meriah's on Fiah".



Do you like to travel?

My Passion in life!!



What is your favorite place to visit?

Thailand is my favorite place so far. But I appreciate all the differences the world offers.



What Makes you feel sexy?

Heels!

Has anyone every tried to hold you back in life?

Of course and I broke up with him.

(MV - Good for you!)




What can guys do to be more attractive to women?

Don't talk about what you can do, show us.



If you could meet anyone dead or alive, who would it be, and why?

Jim Morrison and Mr. Miaggi from Karate Kid. Ingtriguing.

What is the best compliment you ever had?

"You are a really good person"... and I heard it today!!



Who has been the most insipiration person in your life?

My Dad and sister because they are brilliant!!



What advice do you have for upcoming models?

You better be able to take criticism. No matter how perfect you are, someone will always tell you why you are not.



Any final farewell Message for fans?

Roxy has their surfer models... the snowboarding industry needs ME, Meriah On Fiah!! Let me know if anyone can help me get exposure in that area. I am really good and don't look like a boy. Most models are sissy snowboarders!!

(MV -
This finale is great wasn't it!?)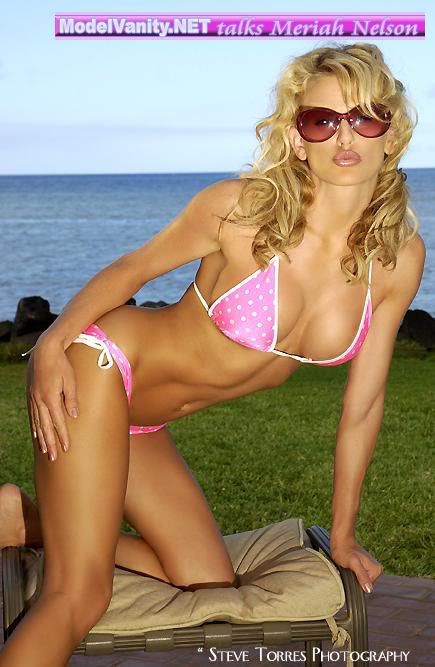 Share