Tweet
Share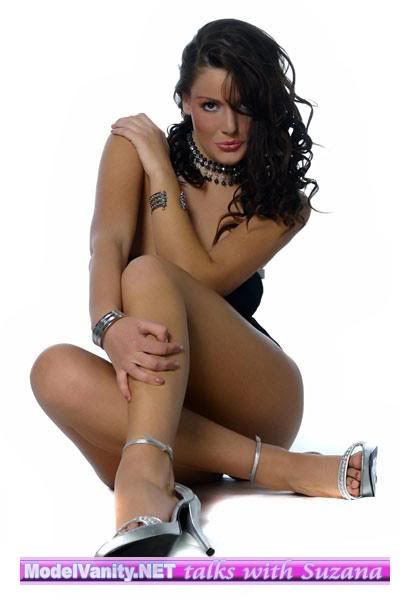 Name:

Suzana
Website:
Myspace.com
Height:
176cm
Weight:
56 kg
Measurements:
91/62/93
nationality:
Macedonian
Hometown:
Skopje
DOB:
08/01/1984
Languages Spoken:
english, french, arabic, spanish, and some others for a simple conversation
How long modeling?
since i was twelve
Occupation:
modeling
Nickname?:
Susan
Turn On:
Adventure, the smell of a jasmin, risk
Turn Off:
lies. I prefer painful true than nice lies
Skills:
dancing,acting,singing,,languages spoken:)
Ink? How many?
Nope, but maybe when i finish my career, i will
Favorite Designer:
D & G,,,Roberto C.
Favorite Shoes:
Manolo B.
Favorite Makeup:
Lancome
Favorite Fragrance:
Alien
Favorite Jewelry Designer:
Swarovsky
Favorite Clothing Store:
Mango
Favorite Photographer?
Stephan Lupino, my best work experience
Runway or Glamour?
Glamour, definitely
Favorite Magazine besides ModelVanity?
Maxim, i like the very feminine magazines and photos too..
Sexiest Man?
Joseph Fiennes, i would like to marry a guy like him :)
Sexiest Woman?
Of course Angelina Jolie, no discussion
Do you sleep naked?
Sometimes, depends of the occasion :)
Thong, Panties, Commando?
Everithing that is sexy
Favorite Digital Gadget?
Canon
Favorite Possession?
weekend house in a mountain, my favorite place
PC or Mac?
PC
Any Pets?
No,but i would like to have lots of horses
What 3 Items on a deserted Island?
Only with a boyfrend, i can live without anything else:) dont smoke - don't drink..e.t.c :)
Tropical or Cold climate?
I prefer cold, maybe cause i am born in January ?!?
Hyper or Chill?
I can be very hyper and also very chill, it depends of the energy that i feel around me
Favorite Car:
Mercedes, Mazda, Toyota
Favorite food? or Drink?
Mediterranean food and only small doses of red Wine and a champagne
Favorite Music:
Afro-american, Budabar, R&B, Latino
Bedtime
10-11h
Vegas, Miami, Hollywood, Ibiza, Paris, London, Dubai, Hong Kong, Tokyo?
I..ve never been to Miami but i think it would fit me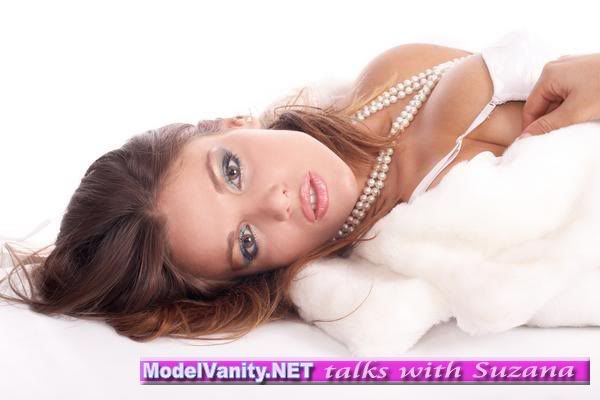 Suzana, what was life like growing up?

I Always i wanted to be older. All my frends were a quite older than me. And i just was waiting to finish my high scool, so i could travel



Were you popular in High School?

:)Yes,but i was not trying to be..:) they choose me for Miss of our school
What is the first compliment you get?

As i remember, it was first time when i put make up one friend told me that i am more beautiful without make-up :)



How did you start modeling?

I wanted by myself. I found catwalk courses when i was 12 and i was hiding it at home cause i didn't have permission to do it

What was it like to pose the first time?

Unforgetable!! immediately i felt in love with the camera..



Do you get nervous before your shoots?

Never, i just can't wait to shoot again, and again. i think i will do shoots until my old age.
Your most embarassing Model shoot moment?

Uh! if was a moment when i was working for a bridal catalog in Turkey. everyone went on a break. they just went to eat something like a sandwiches and were calling for me. But that day i was on a diet and i was supposed to eat only an apple :) And when i took it from my bag everybody was just lauging at me:) and the photographer left his meal to take a photo of how i was eating the apple:) First i was laughing too,:) but after they became unbelievable photos!!



What is your favorite type of pose?

Everything that is feminine. i like the type of commercials for underwear, purfumes, shoes..



What sets you apart from other models?

Take a look on my photos:)



Who is your favorite model?

Adriana Lima, Alessandra Ambrosio, Leticia Casta



What makes a good photographer?

I think the most important thing that one photographer must know how to do, is to make a good relationship with the model. It must be a nice energy beetween them...



What do you do to keep fit?

Dancing. I am half arabic and our tradition is everyday dance, and dance..:)



Any current exciting projects your working on?

Yes.I suppose to work on a reality show, but i am waiting..



What has been your most significant accomplishment in the industry so far?

I am still waiting:)
Ever thought about acting?

Yes..already in two macedonian movies



What are you dreams/goals in life?

To became a brand



Where will you be in 5 years?

GUD knows! I know only whatever i will become, i will be the same positive and happy person..



Do you like to travel?

I like only to travel :) I will feel myself realized when i will see the whole world



What is your favorite place to visit?

I would like to visit the United States because i think my type of beauty and body are for their market



What Makes you feel sexy?

I dont know, I always feel sexy
What can guys do to be more attractive to women?

To be more sensitive and gentle..I am sure most of the women prefer those things than a ....strong, invincible.... man beside them



If you could meet anyone dead or alive, who would it be, and why?

Angelina Jolie, only to feel her unbeleivble energy

What is the best compliment you ever had?

it was givven by my best female friend, she just simply said to me that i am nice person and that really means to me a lot..



Any Sex Tips?

Its a secret:)



Who has been the most insipiration person in your life?

My mother



What advice do you have for upcoming models?

To enjoy their profession because its one of the mose beautiful professions in the world!!!



What can fans do to support your career?

Comment my photos..



Any final farewell Message for fans?

If you love me i will love u too, if u dont i will still love you:-*
Share