Tweet
Share
Name:

Nikita Lea
Website:
myspace.com/nikitalea

Height:
5'5"
Weight:
110
Measurements:
34-24-34
nationality:
Polish, Norweigian, Russian
Hometown:
Sun Valley, ID
DOB:
May 8th 1980
Languages Spoken:
English
Occupation:
Model
Turn On:
Fit body
Turn Off:
Arrogance
Skills:
Sexy Skills
Ink? How many?
none
Favorite Designer:
Kathy Van Zealand
Favorite Clothing Store:
H and M
Favorite Photographer?
David LaChapelle
Runway or Glamour?
Glamour
Favorite Magazine besides
ModelVanity? People
Sexiest Man?
Leonardo DiCaprio
Sexiest Woman?
Angelina Jolie
Do you sleep naked?
Usually
Thong, Panties, Commando?
Thong
Favorite Digital Gadget?
Digi Cam
Favorite Possession?
My car because I wouldn't have a life without it.
Any Pets?
Yes, a chihuahua named Gingersnap.
Do it yourself type?
yes
What 3 Items on a deserted Island?
Water, Sunscreen, and a lighter.
Tropical or Cold climate?
Tropical
Hyper or Chill?
A little of both.
Favorite Car:
Jaguar
Favorite food? or Drink?
Favorite food is Sushi and favorite drink is wine.
Favorite Music:
- Rock
The place:
Ibiza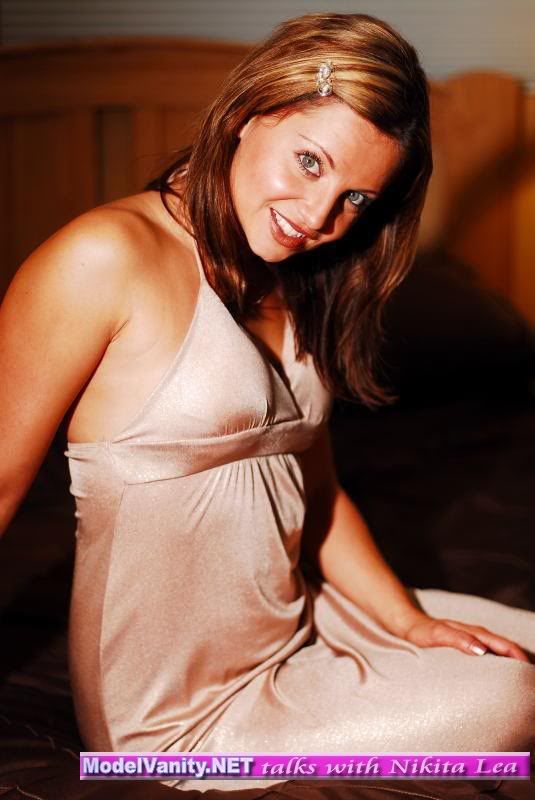 Nikita, What was life like growing up?

Life was good growing up. I am from a small ski resort town so it ws pretty mellow growing up.



Where you popular in High School?

Not really. I was pretty quiet and shy so i wasn't very popular.



What is the first compliment you get?

My eyes.



How did you start modeling?

Started modeling in College for extra money and that's when I decided i liked it and pursued it further.
What was it like to pose the first time?

A little uncomfortable but once I looked at the pics and saw that they turned out well and decided where I needed improvement I wanted to shoot again and again.



Do you get nervous before your shoots?

No



How long have you been modeling?

8 years



What is your favorite type of pose?

I like poses that make me look thin. Also, very arched poses that give the body alot of curvature.



What sets you apart from other models?

I have a great attitude and alot of expereince and I am always professional and on time.



Who is your favorite model?

Adriana Lima


What makes a good photographer?

One who knows what angles look good and how to capture a models personality.
What do you do to keep fit?

Pilates, yoga, weights, cardio, rollerblade, and sauna and steam room.



Are you enhanced?

No



Any current exciting projects your working on?

Not at the moment, lol.



What has been your most significant accomplishment in the industry so far?

Just being able to model full time as long as i have.



Ever thought about acting?

yes, I do some acting here and there.



What are you dreams/goals in life?

To be successful and make alot of money.



Where will you be in 5 years?

Hopefully happy and successful.



What can fans do to support your career?

Be one of my myspace frinds to hear about my latest projects and accomplishments.



Do you like to travel?

I love it!!



What is your favorite place to visit?

Anywhere warm and tropical.


What Makes you feel sexy?

When a hot guy flirts with me.

Has anyone every tried to hold you back in life?

Yes, many boyfriends and ex-boyfriends.



Is there a significant other in your life currently?

Yes



What can guys do to be more attractive to women?

Pay attention to us and be sure to have good hygiene.



If you could meet anyone dead or alive, who would it be, and why?

Madonna because I love what she has accomplished in her life.



What is the best compliment you ever had?

That I come off as very intelligent.



Who has been the most insipiration person in your life?

Madonna because she is so driven.



What advice do you have for upcoming models?

Just watch out for casting agents or photographers that may have an alterior motive. I have encountered a lot of this in my time as a model. Many people out there just want to waste your time because they think they might get laid.

(MV - Ladies this is very true...sorry to say)





Any final farewell Message for fans?

Hope you like my page here and see more of me at my myspace and send me a message on myspace. I love to chat with fans. xoxoxoox Nikita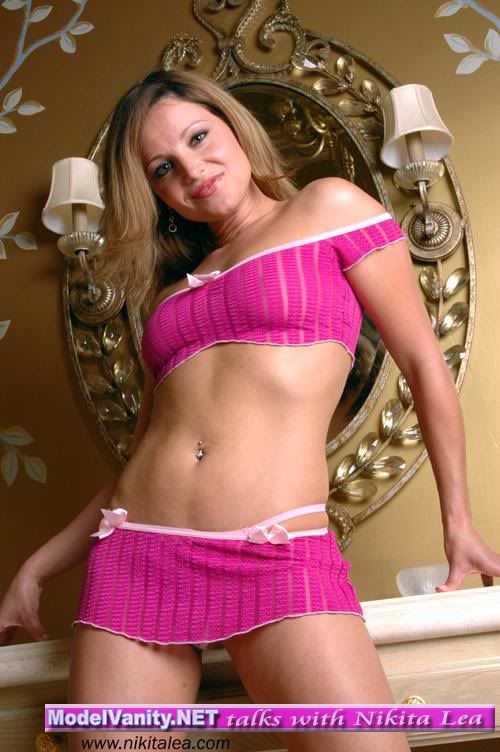 Share