Tweet
Share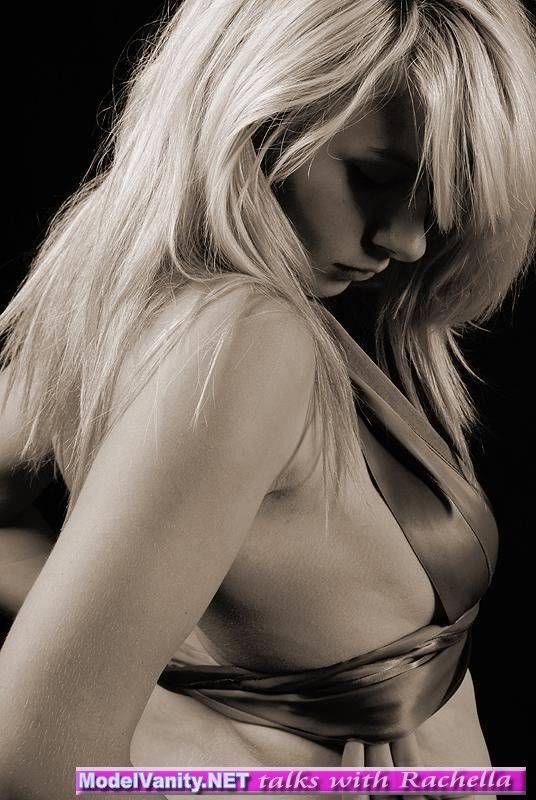 Name:
Rachella
Website:
myspace.com/rachella
OR www.modelmayhem.com (model #264558)
Height:
5'7
Weight:
135 pounds
Measurements:
34 bust, 28 waist, 36 hip
nationality:
british!
Hometown:
London
DOB:
13/02/90
Languages Spoken:
french, german, spanish and a bit of czech!
Occupation:
student
Turn On:
know how to have fun!
Turn Off:
no ambition
Skills:
acting,modelling,horse riding,skiing,snowboarding..
Ink? How many?
none yet
Favorite Designer:
Vivienne westwood
Favorite Clothing Store:
ID
Favorite Photographer?
dont have one
Runway or Glamour?
runway
Sexiest Man?
Jared Leto
Sexiest Woman?
Scarlett Johanson
Do you sleep naked?
haha sometimes!
Thong, Panties, Commando?
french knickers
Favorite Digital Gadget?
my little camera
Favorite Magazine besides ModelVanity?
vogue
Favorite Possession?
phone
What 3 Items on a deserted Island?
sun cream,stereo and a bottle of rum ;)
Tropical or Cold climate?
tropical
Hyper or Chill?
hyper
Favorite Car:
Bugatti
Favorite food? or Drink?
Traditional roast beef and vodka lime and lemonade
Favorite Music?
drum and base/alternative
Vegas, Miami, Hollywood, Ibiza, Paris, London?
Miami or london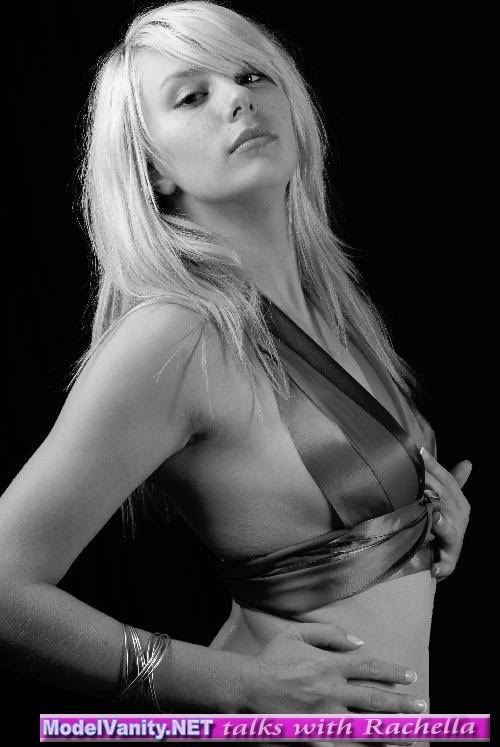 Rachella, what was life like growing up?

Pretty cool, i moved to the states when i was 2, and moved back to england when i was 5 so my first memories were from America. I grew up riding horses and being around animals, so it was a happy childhood



Where you popular in HighSchool?

not initially! but once i found my feet and who i was, i made a lot of awesome friends



What is the first compliment you get?

some mention of my boobs usually haha

How did you start modeling?

My friend who was a photographer told me i would be good at it, and she needed me for one of her shoots- and i loved it!



What was it like to pose the first time?

My first shoot was with a friend who was a photographer, so that made it so much easier. Still, felt a bit silly to start with!



Do you get nervous before your shoots?

not really anymore, it gives me a total buzz now



How long have you been modeling?

about two years?



What is your favorite type of pose?

strong, symmetrical and fiesty!



What sets you apart from other models?

Apart from that im so easy to work with,i love to have fun at shoots and im more "alternative" than most models so you can get some more quirky photos!



Who is your favorite model?

Lily Cole



What makes a good photographer?

Easy going, uses lighting to make the model look good and directive



What do you do to keep fit?

Horse riding! I compete at international level in Eventing



Are you enhanced?

nope



Any current exciting projects your working on?

ONE quite interesting shoot planned..verging towards fetish
What has been your most significant accomplishment in the industry so far?

Every shoot i do i consider an accomplishment- to work with so many photographers is so helpful and rewarding!

Ever thought about acting?

I do act



What are you dreams/goals in life?

Success! I want to work in investment banking in London



Where will you be in 5 years?

Hopefully in London or New York working for Merril Lynch!



What can fans do to support your career?

Just give feedback on the photos they see and help me improve!
Do you like to travel? A lot!

Want to travel round Asia though, havent ventured that way yet!



What is your favorite place to visit?

America. anywhere. i LOVE it.



What Makes you feel sexy?

Dancing and flirting!Along with a pair of killer heels



Has anyone every tried to hold you back in life?

I wouldnt let them!



Is there a significant other in your life currently?

No! But thats fine with me



What can guys do to be more attractive to women?

Not to be so clingy, and dress better!



If you could meet anyone dead or alive, who would it be, and why?

Bon Scott and Angus Young


What is the best compliment you ever had?

You look like scarlett johanson!



Who has been the most insipirational person in your life?

My godmother!



What advice do you have for upcoming models?

Get out there, have fun and do as many shoots as you can
Any final farewell Message for fans?

adios!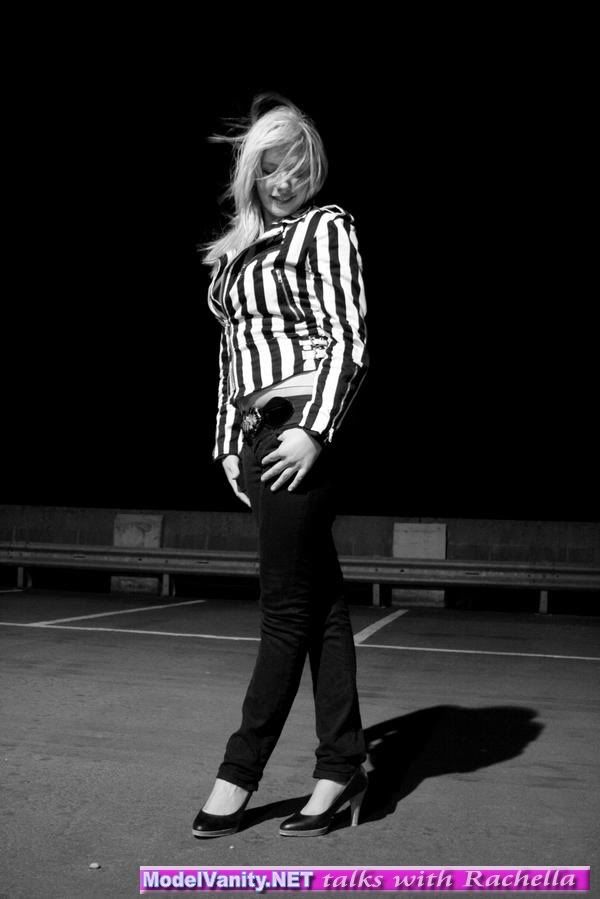 Share