Tweet
Share
Name:
Ari Campos
Website:
http://www.blogger.com/www.myspace.com/_Axxcs
Height:
5"5'
Weight:
120
Measurements:
34C-25-36
nationality:
Latina
Hometown:
Salinas CA
DOB:
05-12-86
Turn On:
I love a guy who wears a fresh pair of Jordans. That makes me melt!!
Turn Off:
Dirty shoes are nasty. I can't deal with a cute guy who has gross looking shoes.
Skills:
I'm good at it all!!
Ink? How many?
Nope, no tattoos.
Occupation:
Student
Favorite Designer:
Betsy Johnson
Favorite Clothing Store:
Fav store in general is Victoria's Secret
Favorite Photographer?
WOW!!! My uncle Najee.
Runway or Glamour?
Glamour
Sexiest Man?
Trey Songz!!
Sexiest
Woman?
Adriana Lima
Do you sleep naked?
Nope.
Thong, Panties, Commando?
Panties
Favorite Digital Gadget?
I gotta love my phone :)
Tropical or Cold climate?
I love both. Tropical makes me wanna wear short shorts, cold climate makes me wanna cuddle
Hyper or Chill?
SUPER HYPER!!
Favorite Car:
G-Wagon
Favorite food? or Drink?
(Mexican food) Posole and I love Horrchata
Favorite Music?
All of Lil Wayne's music
Vegas, Miami, Hollywood, Ibiza, Paris, London?
Miami and Hollywood!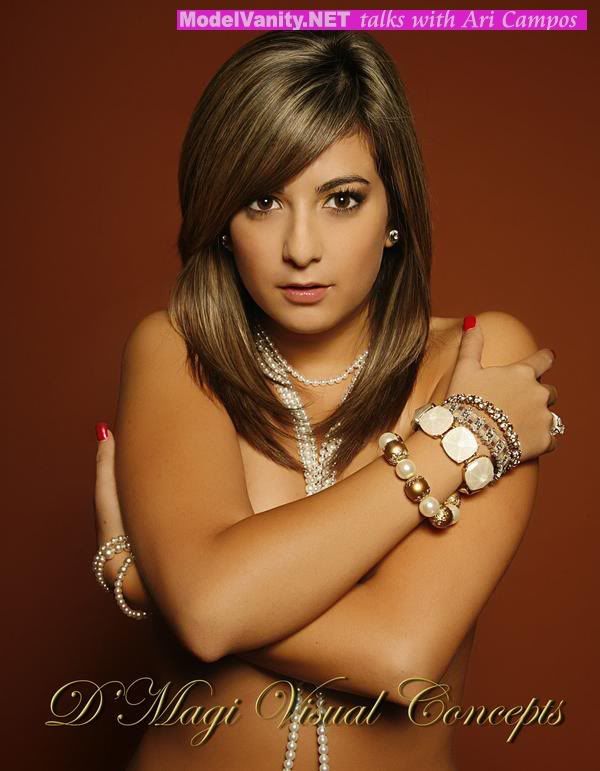 So Ari, What was life like growing up?

My mother has been in a wheel chair since I was 5 years old. I grew up very fast, had to take care of her. I did things none of my friends have ever done. I couldn't go out anywhere without changing my mom's PJ's. Lets just say I had a daughter, and she was my mom. I had to put her before everything else, and I learned so much. I wouldn't change anything of my childhood, because it made me who I am today.



Where you popular in High School?

Yes. It wasn't just me, it was a bunch of us. People knew us, but hated us too. We were part of the cheerleaders, hung out with all the football players. Thank god for the friends I made in high school because a lot of us are still great friends. The girls and the guys I grew up with could never be replaced.



What is the first compliment you get?


My eyes. I come from a very hairy family, we have thick eye brows and thick, dark eye lashes.



How did you start modeling?

I got asked from a premature photographer if I could model for him. Nothing special, just a camera. After the first shoot I loved it. I wanted to do it more. Somehow I got lucky and shot with some great photographers from SoCal, and made some magic.



What was it like to pose the first time?


I wasn't nervous. I think I would have been more nervous if it was a pro photographer.



Do you get nervous before your shoots?

I use to. I would think about some things, or poses I had in mind. I take everything from one shoot to the next. So I only get better and better!



How long have you been modeling?


Not long enough. I did a thing for a text book when I was about 10. It was so cheesy! But I wouldn't count that, I'd say about a couple of months.


What is your favorite type of pose?


Anything that shows my long legs.


What sets you apart from other models?

I am a total goof ball. I'm not Hollywood, I stay humble, and seriously, I am always hyper. I have a problem not being serious. I am always laughing. What's life without laughing?!



Who is your favorite model?


Adriana Lina



What makes a good photographer?

A good sense of humor. You have to trust your photographer, if you don't, then there is a problem. Since I am always hyper, you need to know how to laugh. Have fun!!



What do you do to keep fit?


Work out. I have the best work out buddy ever, she keeps me going. She is all about working out, eating healthy; I always have to keep up with her because she'll leave me behind. Cardio for sure!



Any current exciting projects your working on?

I am on the works on being featured in some more magazines. I would love to be in music videos.



What has been your most significant accomplishment in the industry so far?


The biggest accomplishment is just getting started!!



Ever thought about acting?


Sure have. I have always thought about it.
What are you dreams/goals in life?

I want to finish school! My biggest dream is to get married and have a family, even though I'm young now, this is something I have always thought about. Before I do get married and settle down I want to focus on ME!


Where will you be in 5 years?


Married. Settled down. Business Lady.



What can fans do to support your career?

Love me, and not hate me.



Do you like to travel?


Love to travel. I def try to go to 2 different states in a year.



What is your favorite place to visit?


Home.



What Makes you feel sexy?

Wearing heels.



Has anyone every tried to hold you back in life?


Never.



Is there a significant other in your life currently?


Somewhat.
What is the best compliment you ever had?


When people know about my childhood, and my mom's accident they don't see the same hyper Ari they saw. People compliment me for the courage and strength I have because of the things I grew up doing. I like being recognize for the good I have done.


Who has been the most inspiration person in your life?


My mother. She is the most strongest person, the sweetest person, the hottest person, and the most spiritual person in my life.



Any final farewell Message for fans?

Remember me, and love me..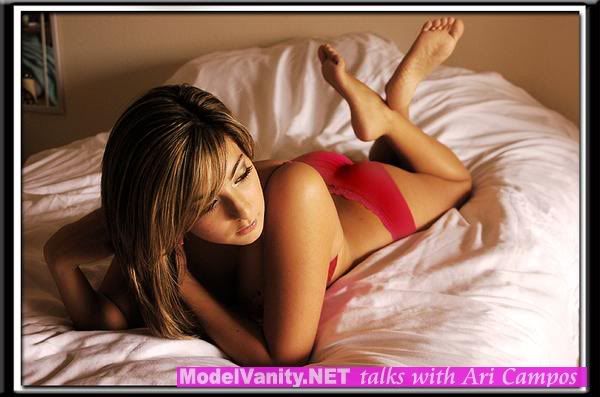 Share