Tweet
Share
Name:

Luciana De LaCosta
Website:
Myspace.com/Lucianape
Height:
5' 2''
Weight:
115
Measurements:
34D-23-34
nationality:
Equal parts Sicilian, Native American, French and Jamaican
Hometown:
Glastonbury, CT
DOB:
08/26/1984
Languages Spoken:
Fluent English, Fluent/Partial Spanish/ Partial French
How long modeling?
2 years
Occupation:
Model
Nickname?:
Luci (Loo' chee)
Turn On:
Nice smiles, confidence, bald heads, green eyes, sense of humor
Turn Off:
Bad hygiene, bad teeth, nasty attitudes (MV - Guys brush your teeth)
Ink? How many?

None
Favorite Designer:
Christian Dior
Favorite Shoes:
Jimmy choo
Favorite Makeup:
MAC/ L'oreal
Favorite Jewelry Designer:
Cartier
Favorite Clothing Store:
H&M
Favorite Photographer?
Giles Bensimon
Runway or Glamour?
Glamour
Favorite Magazine besides ModelVanity?
Playboy. Seriously, they have great articles
Do you sleep naked?
Absolutely
Thong, Panties, Commando?
Commando unless I'm wearing a skirt or dress; then it has to be thongs
Favorite Digital Gadget?
Motorola Q9
Any Pets?
None right now
Do it yourself type? (y/n)
You better believe it.
What 3 Items on a deserted Island?
Chapstick, matches, gum
Tropical or Cold climate?
Tropical
Hyper or Chill?
Hyper
Favorite Music:
Rock, some heavy metal
Bedtime:
I try for 11, it's usually later
Vegas, Miami, Hollywood, Ibiza, Paris, London, Dubai, Hong Kong, Tokyo?
Tokyo
Luciana What was life like growing up?

I come from a closely knit family. My father is a minister so the household was very strict, but we were all tight. I have 6 brothers and a sister, I'm the second oldest so I had to behave to set a good example. That didn't always work out to well, I had a rebellious stage.



Were you popular in High School?

I was, but I was weird. I was a cheerleader, but I was also very awkward and not allowed to date. I think people just knew me because I was different. I still like that to this day, I just wish I dressed better. I set my own trends and dressed too old for my age.



What is the first compliment you get?

"You have a beautiful smile." But that's not always the first compliment people are thinking, just the one they have the balls to say first, lol.



How did you start modeling?

I wanted to be an actress. I went to get headshots done and the photog wanted to keep going and keep changing outfits. I got compliments on that and people said I should be a model.



What was it like to pose the first time?

I felt like an idiot. I didn't realize my emotions could be read on film so I had to quickly learn to stop being so weird.
Do you get nervous before your shoots?

Yes. I'm always confident I will do well, but I want to make sure I'm doing what the client wants me to.



Your most embarassing Model shoot moment?

At a beach shoot, I fell in the water and messed up my hair and make up in front of everyone. Man, I felt like such a doofus!



What is your favorite type of pose?

The flamingo. I never actually do that in a shoot, but taking pictures for events I'll strike it up. It seems so hollywood.



What sets you apart from other models?

A couple of things in particular: my attitude. I try my best to never make people feel smaller than I am. I respond to the fan mail I get, I speak to everyone who approaches me. The conversation may not be long, but most models don't realize people are going to need to feel like they can approach you. Fan favorite models are the ones they feel they can relate to. I also try my best to cover many different types of shoots. I may shoot something that's beyond glamourous, then I may shoot something dark. I want to be
known as being versatile... I'm like a mix of the Good Witch of the North and the Wicked Witch of the West.



Who is your favorite model?

Marissa Miller. She's down to earth and such a California girl. She stays fit and has fun at the same time. She's one of the few models that enjoys having her curves and loves her body. It's encouraging.



What makes a good photographer?

Besides the obvious things like being good with lighting, knowing how to focus, it would be someone who makes me feel comfortable in front of them. They also have to be a pleasure to work with.



What do you do to keep fit?

I hit the gym 6 days a week and run ATLEAST 5 miles a day. I also count calories. It's sounds silly, but people don't realize just how much they're taking in sometimes until they see it on paper.



Are you enhanced?

No. I was blessed this way. Sometimes I wish they were fake, I'd like to go braless a lot more, lol.
Any current exciting projects your working on?

Right now, I'm doing a lot of portfolio updating because my body composition has changed again, I'm a lot more toned. I've been doing a lot of networking and trying to move out to California to pursue my modeling more.



What has been your most significant accomplishment in the industry so far?

Appearing in the Playboy Cyber Club for the Girls of Myspace campaign. I know there were a lot of girls who wanted it just as bad as I did. It was an honor. They got thousands of submissions.



Ever thought about acting?

Yes, that's how I began modeling



What are you dreams/goals in life?

I'd like to continue modeling for several more years. Thereafter, I'm going to finish school and be an attorney.



Where will you be in 5 years?

On the cover of almost every magazine and on posters in people's rooms.
Do you like to travel?

Yes and no... I'm afraid of flying. Actually, I'm petrefied of planes.



What is your favorite place to visit?

Virginia Beach; dolphins at 6 am and a beautiful rising sun.


What Makes you feel sexy?

My hair up with a tank top and jeans, laying on my couch. It's the feeling of being comfortable in your own skin.



Has anyone every tried to hold you back in life?

Of course; but you take it and make tough skin of it.



Is there a significant other in your life currently?

No. I find that I destroy relationships because my career comes first. It's never fair to the other person who's giving their all and you're not. It's plain selfish.



What can guys do to be more attractive to women?

I guess it would depend on the type of guy. But if you're still acting like you're in fifth grade and being mean because you like a girl, you should probably brush up on your skills.



If you could meet anyone dead or alive, who would it be, and why?

Leonard Peltier; he's a hero and a legend.



What is the best compliment you ever had?

"You have a nice smile."



Who has been the most insipiration person in your life?

My parents, equally. They're both completely different people, but help me with everything in life.



What advice do you have for upcoming models?

This industry is hard. You'll hear no a million times before you hear a yes. Just keep pushing, especially if you offer a different look. They're are a lot of people who don't like change, but there are also people who are looking for just that.



What can fans do to support your career?

Everyone is so supportive already, but stay updated with me. I often post what I've been doing or where I am going to be. Feel free to come up and introduce yourself, I'm a people person. Tell a friend, ha.



Any final farewell Message for fans?

Thank you for all the support, all the letters, the request for photos, the love you send. It's amazing, you all keep me going. It's encouraging to know there are people in my corner screaming encore. I do, truly, love you all.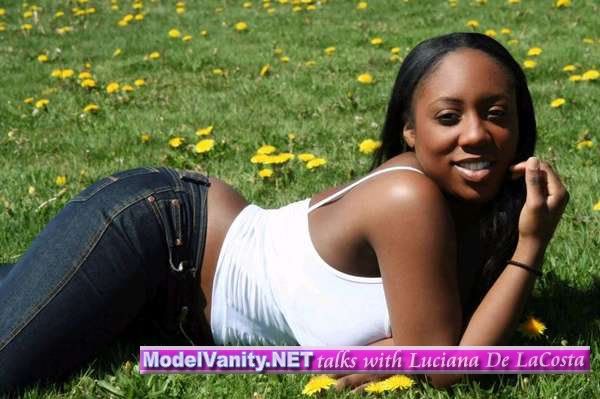 Share