Tweet
Share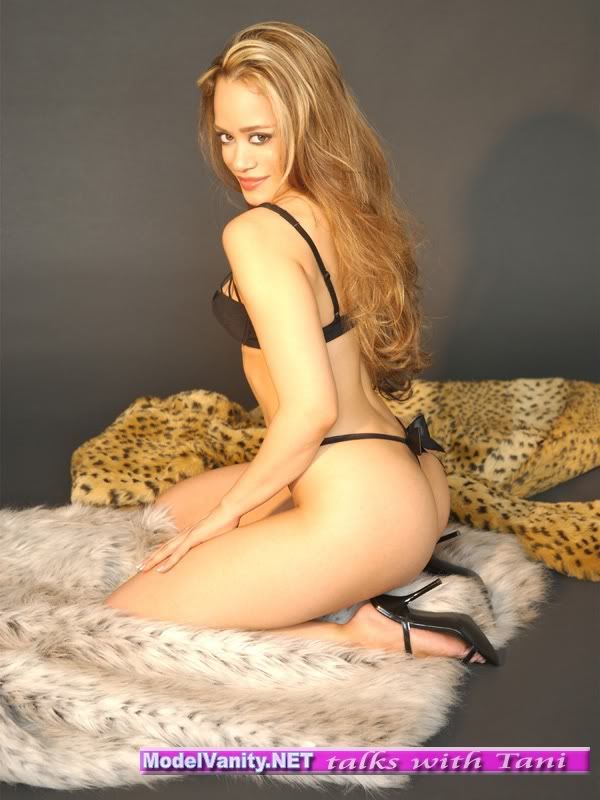 Name:

Tani
Website:
myspace.com/tani122
Height:
5' 3"
Weight:
103 lbs
Measurements:
32A/22.5/33
DOB:
01/22/??
Languages Spoken:
English, Portuguese & some Spanish
How long modeling?
I was modeling years ago and came back to it for about 8 months now
Occupation:
Artist and Model
Nickname?:
Ticki
Turn On:
Great sense of humor, intelligence and well... tall, dark and handsome.
Turn Off:
Poor hygiene and mean people
Skills:
I could tell you, but then I'll have to kill you ;)
Ink? How many?
Yes, two very small ones. I have one on the back of my neck (an "artsy" looking little ME) that I designed myself and one on the back of my left ankle (Aquarian wavy sign) that a buddy designed.
Favorite Designer:
BCBG - MAX - AZRIA
Favorite Shoes:
Anything trendy and sexy with a heel
Favorite Makeup:
MAC, Lancome & Bare Essentuals
Favorite Fragrance:
Prada, and Burberry Brit
Favorite Jewelry Designer:
Chopard and Tiffany
Favorite Clothing Store:
BeBe, Brass Plum, BCBG
Favorite Color:
PINK
Favorite Photographer?
That's tough, I've had the opportunity to work with great ones.
Runway or Glamour?
Glamour
Favorite Magazine besides ModelVanity?
People & Shape
Sexiest Man? Celebrity?
... The ROCK (Dwayne Johnson)
Sexiest Woman?
You mean other than me? ;)
Do you sleep naked?
I have, but not really. Plus, I NEED to sleep with socks on.
Thong, Panties, Commando?
I love pretty little things, so I love thongs and sexy panties. And
well... on occasion I have been known to "forget" my draws! LOL
Favorite Digital Gadget?
My celly
PC or Mac?
PC
Any Pets?
Yes, an Italian Greyhound named Disco Diva, a chihuahua named Samba and a calico cat named Skittles
Do it yourself type?
(y/n) Oh fo sho! I'll change my own tire!
What 3 Items on a deserted Island?
SPF-70, mascara and toothbrush
Tropical or Cold climate?
Tropical
(MV - The popular answer)
Hyper or Chill?
This girl is chillin'
Favorite Car:
BENZ
Favorite food?
or Drink?
I like Portuguese food and Thai food. Fav drink is simply water.
Favorite Music:
I like everything and anything that sounds good.
Bedtime:
Eeesh, like 2am, unless I have a shoot the next day.
Vegas, Miami, Hollywood, Ibiza, Paris, London, Dubai, Hong Kong, Tokyo?
Hollywood and Ibiza
Tani, Were you popular in High School?

Yes, I was... I was a little trend setter too :o)



What is the first compliment you get?

I'm usually complimented on my big eyes.

(MV - We knew that answer!!!)




How did you start modeling?

It was one of those things where I always wanted to do it, and was told I should try it... and so I did.



What was it like to pose the first time?

It actually felt very natural as if I've been doing it for a long time. It was a good experience.



Do you get nervous before your shoots?

No, I don't get nervous... I get excited and giddy.



Your most embarrassing Model shoot moment?

Hmm, I don't have any embarrassing
moments as of yet which is a little shocking since I'm such a goofball. BUT stay tuned, you never
know!



What is your favorite type of pose?

There are many poses I like, but I must say, I love the types that involve a blowing fan.



What sets you apart from other models?

Wow, let's see... I am told that I have a unique look and unique features, SO my answer is, I have unique features.



Who is your favorite model?

Gisele Bundchen
What makes a good photographer?

Well, I'm a true goofball so I like to have fun. I like working with photographers who really enjoy what they do and have a great time doing it. A great photographer is creative, fun, professional and works together with the model.



What do you do to keep fit?

I love physical fitness... I weight train 4-5 days a week and take spin classes about 3 times a week. I also try to eat healthy and allow myself to "cheat" every once in a while. Girl's gotta have her cake!!



Are you enhanced?

Nope, these A-cups are ALL mine! LOL



Any current exciting projects you're working on?

Presently I am working some shoe shows in NYC.



What has been your most significant accomplishment in the industry so far?

Well, as I'm pretty much a newbie, my list isn't very long (lol), but I'd have to say getting the cover of Register Magazine and being asked to do a lingerie catalog.



Ever thought about acting?

Oh yes. fo sho. I always secretly felt I could do it and would love the
opportunity to. Ahem, any acting agents reading this?? :o)



What are your dreams/goals in life?

To make some SERIOUS Benjamins. Heh heh, no seriously... see answer below.



Where will you be in 5 years?

Hopefully ALIVE! LOL. I hope to be more advanced in my career as a model and an artist. And hopefully I would have gotten that chance to act. (hint hint to casting agents ) ;)



Do you like to travel?

I love to travel. I even like to pack!



What is your favorite place to visit?

Definitely a tropical or hot location with a beach (of course I'll need my SPF).



What Makes you feel sexy?

I always feel mad sexy right after a long hot sudsy shower.... grrrrr ;)



Has anyone ever tried to hold you back in life?

I wouldn't say PEOPLE tried to hold me back. I think there were situations that kept me back in the past. But now I'm unstoppable so if anyone tries to hold me back, I'll just have to take 'em OUT! heh heh



If you could meet anyone dead or alive, who would it be, and why?

That would be my maternal grandparents as they passed away when my Mom was a little girl :o(



What is the best compliment you ever had?

Best compliment would be that I am selfless and have a really big heart.



Any Sex Tips?

I could tell you, but then I'd have to kill you ;)

(MV - What happened to
selfless?)





What advice do you have for upcoming models?

Always stay true to yourself and your beliefs and never stray from that.



What can fans do to support your career?

Fans? Do I have fans? Well, definitely keep supporting me. If you want to keep me around, buy my posters, vote for me during contests and just continue to be as amazing as so many have been. I appreciate the support and attention and am always so flattered. Thank you!!
Any final farewell Message for fans?

I want to say a great BIG thank you to everyone who has supported me and continues to. Thank you also for taking the time to read my interview. Many hugs to all!! :o)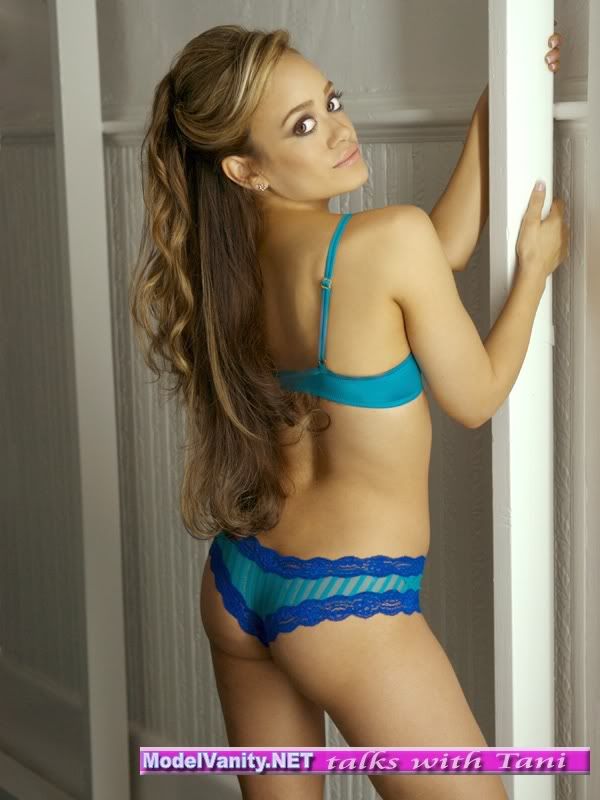 Share